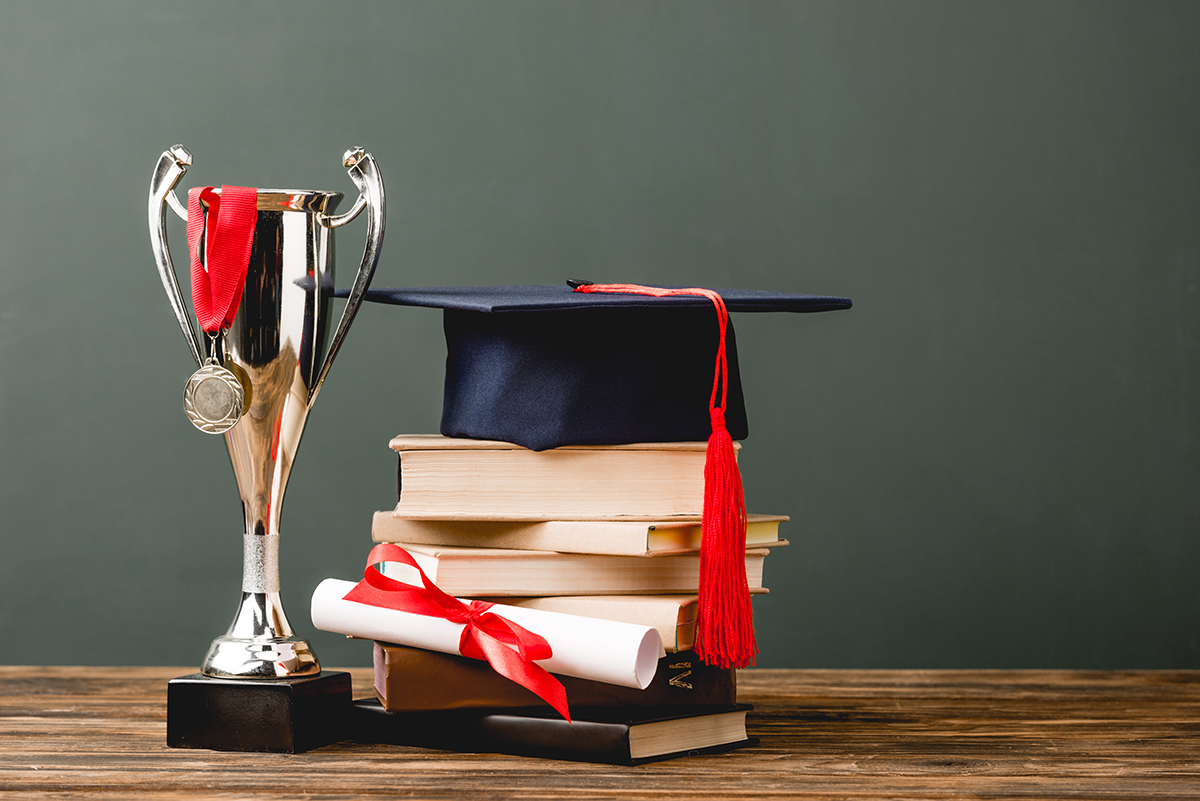 Houston's Graduating Seniors are Smart
The 2024 National Merit Scholarship Competition was a good year for Houston-area high school seniors. There were 466 area seniors who scored in the top 1% on the PSAT to earn the celebrated "Semifinalist" designation. This number was fairly stable compared to last year's 476 Semifinalists and represents about 3% of all Semifinalists in the nation.
The year-long road to being named a National Merit Semifinalist starts in mid-October of the previous year (current juniors will start the process when they take the PSAT this October). Approximately 1.3 million students participated in this year's competition, which is less than the previous year's 1.5 million.
Join our free PSAT and SAT info session
Are you the parent of a current junior preparing for the PSAT or SAT?
Join us at our Rice Village Study Lounge most weeks for a no-charge information session about the new, digital PSAT and SAT including format, strategies, and FAQs. Register now.
Click here to go straight to the names of the Semifinalists!
Cutoff Scores for Texas National Merit Semifinalists and Commended Scholars 
A National Merit Semifinalist (NMSF) is a student who scored in the top 1% of high school juniors on the PSAT in their state (October of 2022 for this year's winners). The PSAT is essentially a slightly shorter version of the popular SAT college admissions test. (Note that the PSAT is changing in 2023 to an all digital format that will be the same length as the new, digital SAT).
The Semifinalist cutoff score in Texas was a 219 for the 2023-2024 National Merit Scholarship competition, which is the same as it was in the previous year. This cutoff score means that students had to have a selection index score of at least a 219 out of 228, which is roughly equivalent to a 1490 on the full SAT.
To earn the less prestigious but still admirable "Commended" designation, students must have earned a selection index score of 207 or roughly a 1380 on the SAT, which places them approximately in the top 5% of PSAT takers nationwide.
The number and percentage of awardees is one of the only statistics that is cross-comparable between private and public high schools. Since the national average is just 1%, any school that boasts more than 1% of their senior class as National Merit Semifinalists is graduating smarter students than average.
Houston's Top High Schools by National Merit Semifinalists
St. John's School in River Oaks continues to be the metro area's talent magnet. With 27 Semifinalists, 15 percent of the senior class qualified as being in the top 1% or 15x the national average. However, this year's result was slightly down compared to last year's 32 Semifinalists.
Kinkaid School similarly maintains its position as the second most academically rigorous school in the city. The Memorial-area Houston school celebrated 14 Semifinalists or 9% of their senior class.
The John Cooper School in The Woodlands had a really phenomenal year with 9 Semifinalists, up from just 1 last year, placing them third in the region with 8% of the senior class.
Houston ISD's (HISD) Carnegie Vanguard High School retains its spot ahead of any other public school in the Houston metro area. Their 15 Semifinalists represent about 7% of the senior class, or 7x the national average and is a nice improvement over last year's 12 awardees.
Other big sources of talent can be found in public and private schools like Seven Lakes, Clements, Awty International, Dulles, DeBakey, Woodlands College Park, Memorial, Bellaire, Strake Jesuit, St. Agnes, and Clear Lake, where between 3 and 5 percent of their senior classes scoring in the top 1% on the PSAT.
Katy and Sugarland Have Great Schools
Katy's 85 National Merit Semifinalists represent 18% of the Houston area's total.
Sugarland's 71 National Merit Semifinalists represent 15% of the Houston area's total.
At the statewide level, public boarding school Texas Academy for Math and Science (TAMS), 32 seniors were National Merit Semifinalists—about 15% of the class.
Key Takeaways From the 2023-2024 Semifinalists Announcement
St. John's and Kinkaid continue to be the smartest schools in the Houston area.
HISD's Carnegie Vanguard is the top public school.
The Katy and Sugarland suburban school districts are truly exceptional.
Top College Majors for Smart Students
The most popular college majors of interest for Houston's brightest high school graduates remains computer science, engineering, and bioscience. Computer science saw a big jump in popularity at the expense of Bioscience and Health Professions. However, nearly none of these brilliant students seems very interested in government or law.
(A student's intended major is designated by the three digit code in front of their name in the table below. Click here for the full description of these college majors.)
Computer Science (code 30x) – 15% of Houston's Semifinalists (up from 9% last year)
Engineering (45x) – 9%
Bioscience (16x) – 7%
Health Professions (6xx) – 4% (down from last year's 7%)
Undecided (999 or 0000) – 49%
National Merit Scholarships Can Mean Free College
In a typical year, about half of all high school juniors across more than 20,000 US high schools participate in the National Merit Scholarship competition beginning the fall of their 11th grade year. Juniors compete by sitting for what is essentially an abbreviated, practice SAT (PSAT).
Semifinalists, the most important designation, represent the top 1% of the approximate 1.3 million test-takers. National Merit Semifinalists generally qualify for scholarships that can range from full tuition at certain public colleges to $5,000 and $10,000 scholarships at prestigious, private universities.
Texas colleges offering full-rides include the University of Houston, UT Arlington, UT Dallas, UT Tyler, UNT Dallas, Abilene Christian, and Lubbock Christian. Even competitive Texas A&M at College Station offers a near free ride.
Approximately 15,000 out of 16,000 semifinalists then go on to be designated finalists. Finalists are typically chosen in accordance with their school grades and ACT or SAT test scores.
​Lastly, a little over half of the finalists are designated "Merit-Scholarship" recipients, meaning that they get the fancy title and one-time $2,500 cash payment. Scholarship winners are selected "based on their abilities, skills, and accomplishments."
These NMSF figures are particularly attractive, versus SAT and ACT scores, because they're publicly available from the National Merit Scholarship Corporation; conversely, schools do not have to disclose the SAT and ACT scores of their students. And when private schools do disclose SAT/ACT scores, it's often presented in a way that's difficult to read and/or compare.
Names of National Merit Semifinalists
This list includes students from schools in Baytown, Bellaire, Conroe, Cypress, Friendswood, Fulshear, Houston, Humble, Katy, Kingwood, Klein, League City, Pearland, Missouri City, Richmond, Spring, Stafford, Sugar Land, The Woodlands, Tomball, and the Texas Academy for Math and Science at Denton. The table's default sorting is by school.
Click here for the original press release from National Merit Scholarship Corporation, which contains the names of all winners in the state of Texas.
| City | School | Student |
| --- | --- | --- |
| Houston | ALIEF HASTINGS H. S. | 467 Omeje, Joshua U. |
| Houston | AWTY INTERNATIONAL SCHOOL | 000 He, Jeremy |
| Houston | AWTY INTERNATIONAL SCHOOL | 000 Li, Jiucheng |
| Houston | AWTY INTERNATIONAL SCHOOL | 000 Sharma, Vedant |
| Houston | AWTY INTERNATIONAL SCHOOL | 000 Shen, Angelina |
| Houston | AWTY INTERNATIONAL SCHOOL | 000 Shiv, Rishi |
| Houston | ROBERT M. BEREN ACADEMY | 454 Kister, Helen S. |
| Houston | CARNEGIE VANGUARD H. S. | 160 Arain, Zoya S. |
| Houston | CARNEGIE VANGUARD H. S. | 999 Burudgunte, Ankit |
| Houston | CARNEGIE VANGUARD H. S. | 743 Gau, Evelyn F. |
| Houston | CARNEGIE VANGUARD H. S. | 700 Hawes, Elizabeth |
| Houston | CARNEGIE VANGUARD H. S. | 000 Huang, Shonn |
| Houston | CARNEGIE VANGUARD H. S. | 000 Kim, Audrey J. |
| Houston | CARNEGIE VANGUARD H. S. | 000 Kim, Gayeon |
| Houston | CARNEGIE VANGUARD H. S. | 000 Sanghvi, Ishaan J. |
| Houston | CARNEGIE VANGUARD H. S. | 457 Semlani, Yash |
| Houston | CARNEGIE VANGUARD H. S. | 300 Singh, Jay |
| Houston | CARNEGIE VANGUARD H. S. | 303 Stevens, Cooper J. |
| Houston | CARNEGIE VANGUARD H. S. | 303 Vasquez, Jonathan O. |
| Houston | CARNEGIE VANGUARD H. S. | 451 White, Nicholas E. |
| Houston | CARNEGIE VANGUARD H. S. | 999 Zhang, Anthony H. |
| Houston | CARNEGIE VANGUARD H. S. | 999 Zhao, Lewen A. |
| Houston | CHALLENGE EARLY COLLEGE H. S. | 000 Aguas, Megan T. |
| Houston | CLEAR LAKE H. S. | 303 Abdelkhaleq, Samir G.  |
| Houston | CLEAR LAKE H. S. | 000 Bailey, Paul R. |
| Houston | CLEAR LAKE H. S. | 000 Cogburn, Joshua S.  |
| Houston | CLEAR LAKE H. S. | 303 Faulkner, Ethan W.  |
| Houston | CLEAR LAKE H. S. | 000 Gunarathna, Minasha  |
| Houston | CLEAR LAKE H. S. | 300 Huang, Jonathan J.  |
| Houston | CLEAR LAKE H. S. | 300 Jiang, Joshua J. |
| Houston | CLEAR LAKE H. S. | 000 Wang, Chris T. |
| Houston | CLEAR LAKE H. S. | 450 Wang, Cody  |
| Houston | CLEAR LAKE H. S. | 000 Wang, Richard |
| Houston | CLEAR LAKE H. S. | 451 Wye-Rodney, Gunnar W. |
| Houston | CYPRESS CREEK H. S. | 000 Le, Hernan M. |
| Houston | CYPRESS FALLS H. S. | 303 Singh, Archita |
| Houston | CYPRESS FALLS H. S. | 300 Vo, Khanh D. |
| Houston | CYPRESS RIDGE H. S. | 302 Jung, Matthew S.  |
| Houston | CYPRESS RIDGE H. S. | 000 Maheshwari, Chirag  |
| Houston | CYPRESS RIDGE H. S. | 600 Wang, Felix J.  |
| Houston | MICHAEL E. DE BAKEY H. S. FOR HEALTH PROFESSIONS | 628 Anstead, Charles L. |
| Houston | MICHAEL E. DE BAKEY H. S. FOR HEALTH PROFESSIONS | 999 Asadi, Zane K.  |
| Houston | MICHAEL E. DE BAKEY H. S. FOR HEALTH PROFESSIONS | 870 Bommekal, Siddharth  |
| Houston | MICHAEL E. DE BAKEY H. S. FOR HEALTH PROFESSIONS | 830 Cheema, Giovani |
| Houston | MICHAEL E. DE BAKEY H. S. FOR HEALTH PROFESSIONS | 160 Diwan, Sara |
| Houston | MICHAEL E. DE BAKEY H. S. FOR HEALTH PROFESSIONS | 162 Giang, Nathan  |
| Houston | MICHAEL E. DE BAKEY H. S. FOR HEALTH PROFESSIONS | 999 Sun, Marilyn  |
| Houston | EMERY - WEINER SCHOOL | 907 Canfield, Ethan H. |
| Houston | ENERGY INSTITUTE H. S. | 000 Friesen, Noah J. |
| Houston | HEIGHTS H. S. | 000 Cruise, Bryce M. |
| Houston | HOUSTON QURAN ACADEMY | 303 Hasan, Razin A. |
| Houston | KERR H. S. | 303 Guo, Kevin |
| Houston | KERR H. S. | 629 Le, Tuan D. |
| Houston | KINDER H. S. FOR THE PERFORMING AND VISUAL ARTS | 162 Chen, Eileen Y. |
| Houston | KINDER H. S. FOR THE PERFORMING AND VISUAL ARTS | 120 Lim, Preston R. |
| Houston | KINDER H. S. FOR THE PERFORMING AND VISUAL ARTS | 450 Wilson, Victoria R. |
| Houston | KINKAID SCHOOL | 204 Carr, Francis T. |
| Houston | KINKAID SCHOOL | 000 Denechaud, Jonathan B.  |
| Houston | KINKAID SCHOOL | 000 Hall, Stella S. |
| Houston | KINKAID SCHOOL | 450 Ji, Eshing |
| Houston | KINKAID SCHOOL | 833 Jones, Sean M. |
| Houston | KINKAID SCHOOL | 830 Livingstone, Victoria A.  |
| Houston | KINKAID SCHOOL | 000 Mani, Eshaan S. |
| Houston | KINKAID SCHOOL | 161 Markowitz, Pierce N. |
| Houston | KINKAID SCHOOL | 870 Nguyen, Julia |
| Houston | KINKAID SCHOOL | 742 Silva, Will J. |
| Houston | KINKAID SCHOOL | 999 Wang, Eric Y. |
| Houston | KINKAID SCHOOL | 000 Wang, Wende |
| Houston | KINKAID SCHOOL | 000 Yalamanchili, Rohan S.  |
| Houston | KINKAID SCHOOL | 209 Young, Peyton E.  |
| Houston | MIRABEAU B. LAMAR H. S. | 000 Loredo, Augustus G.  |
| Houston | MIRABEAU B. LAMAR H. S. | 000 Reedstrom, Peter H.  |
| Houston | MEMORIAL H. S. | 302 Arumalla, Vihal |
| Houston | MEMORIAL H. S. | 000 Chuan, Jenna P. |
| Houston | MEMORIAL H. S. | 970 Du, Alina Y. |
| Houston | MEMORIAL H. S. | 160 Fan, Jason B. |
| Houston | MEMORIAL H. S. | 999 Kuo, Weijen |
| Houston | MEMORIAL H. S. | 000 La, Casey E. |
| Houston | MEMORIAL H. S. | 999 Le, Jennifer T. |
| Houston | MEMORIAL H. S. | 000 Lee, Joshua H. |
| Houston | MEMORIAL H. S. | 999 Liu, Sven |
| Houston | MEMORIAL H. S. | 000 Ma, Daniel D. |
| Houston | MEMORIAL H. S. | 000 Mok, Zachary T. |
| Houston | MEMORIAL H. S. | 467 Mucher, Theodore R.  |
| Houston | MEMORIAL H. S. | 000 Pearson, Bennett |
| Houston | MEMORIAL H. S. | 600 Pham, Audrey T. |
| Houston | MEMORIAL H. S. | 000 Ramesh, Urvi |
| Houston | MEMORIAL H. S. | 451 Scimemi, Shepherd T.  |
| Houston | MEMORIAL H. S. | 000 Streett, William A. |
| Houston | MEMORIAL H. S. | 000 Ting, Ivan |
| Houston | MEMORIAL H. S. | 000 Tolentino, Joshua C.  |
| Houston | SPRING BRANCH ACADEMIC INSTITUTE | 600 Al-Jadir, Yousif |
| Houston | SPRING BRANCH ACADEMIC INSTITUTE | 450 Bommer, Amelia  |
| Houston | SPRING BRANCH ACADEMIC INSTITUTE | 303 Dalton, Michael  |
| Houston | ST. AGNES ACADEMY | 160 Christensen, Abigail G.  |
| Houston | ST. AGNES ACADEMY | 000 Dae, Melinda  |
| Houston | ST. AGNES ACADEMY | 000 Huang, Ella |
| Houston | ST. AGNES ACADEMY | 907 McCarthy, Kathryn S.  |
| Houston | ST. AGNES ACADEMY | 455 Scott, Laila L. |
| Houston | ST. AGNES ACADEMY | 467 Sjodin, Emma M.  |
| Houston | ST. FRANCIS EPISCOPAL SCHOOL | 457 Voytovych, Lea |
| Houston | ST. JOHN'S SCHOOL | 000 Andrews, Georgia T. |
| Houston | ST. JOHN'S SCHOOL | 000 Balachandran, Shreyes M.  |
| Houston | ST. JOHN'S SCHOOL | 200 Basu, Mia B. |
| Houston | ST. JOHN'S SCHOOL | 000 Boom, Janie E. |
| Houston | ST. JOHN'S SCHOOL | 000 Crain, Joseph C. |
| Houston | ST. JOHN'S SCHOOL | 000 Hindman, Abigail R. |
| Houston | ST. JOHN'S SCHOOL | 999 Humphries, Sam A. |
| Houston | ST. JOHN'S SCHOOL | 000 Lu, Benjamin Z. |
| Houston | ST. JOHN'S SCHOOL | 000 Maitra, Arjun S. |
| Houston | ST. JOHN'S SCHOOL | 999 Malone, August M. |
| Houston | ST. JOHN'S SCHOOL | 209 Mann, Paul M. |
| Houston | ST. JOHN'S SCHOOL | 450 Marshall, Joseph L. |
| Houston | ST. JOHN'S SCHOOL | 605 Merchant, Shaheen F. |
| Houston | ST. JOHN'S SCHOOL | 000 Miao, Alexander |
| Houston | ST. JOHN'S SCHOOL | 901 Mostyn, Avalyn P. |
| Houston | ST. JOHN'S SCHOOL | 904 Murphy, Michael K. |
| Houston | ST. JOHN'S SCHOOL | 185 Naehr, Nadiya C. |
| Houston | ST. JOHN'S SCHOOL | 000 Nanna, Andrew G. |
| Houston | ST. JOHN'S SCHOOL | 000 Nikulin, Semyon Y. |
| Houston | ST. JOHN'S SCHOOL | 000 Ordonez, George J. |
| Houston | ST. JOHN'S SCHOOL | 000 Owens, Bethany L. |
| Houston | ST. JOHN'S SCHOOL | 000 Poag, Lillian C. |
| Houston | ST. JOHN'S SCHOOL | 000 Sorak, Andrew P. |
| Houston | ST. JOHN'S SCHOOL | 000 Torres Li Ning, Adriana M.  |
| Houston | ST. JOHN'S SCHOOL | 000 Verducci, John M. |
| Houston | ST. JOHN'S SCHOOL | 000 Wong, Nelson |
| Houston | ST. JOHN'S SCHOOL | 741 Zhang, Jianyi  |
| Houston | ST. THOMAS H. S. | 000 Brown, Campbell M.  |
| Houston | ST. THOMAS H. S. | 000 Wittman, William J.  |
| Houston | STRAKE JESUIT COLLEGE PREPARATORY | 000 Belloso, Alan S. |
| Houston | STRAKE JESUIT COLLEGE PREPARATORY | 303 Chang, Noah B. |
| Houston | STRAKE JESUIT COLLEGE PREPARATORY | 000 Daniel, Jonathan |
| Houston | STRAKE JESUIT COLLEGE PREPARATORY | 451 Elfman, Ian M. |
| Houston | STRAKE JESUIT COLLEGE PREPARATORY | 000 Jones, Zachary S. |
| Houston | STRAKE JESUIT COLLEGE PREPARATORY | 000 Jumalon, Vincent |
| Houston | STRAKE JESUIT COLLEGE PREPARATORY | 000 Lyon, Brendan S. |
| Houston | STRAKE JESUIT COLLEGE PREPARATORY | 000 Patel, William K. |
| Houston | STRATFORD H. S. | 169 Bednar, Benjamin  |
| Houston | STRATFORD H. S. | 185 Marye, Tatum |
| Houston | STRATFORD H. S. | 160 Moon, Tyler  |
| Houston | SUMMER CREEK H. S. | 455 Houlton, Zachary A.  |
| Houston | SUMMER CREEK H. S. | 000 Parks, Matthew A.  |
| Houston | SUMMER CREEK H. S. | 000 Stibrich, Lukas M.  |
| Houston | VILLAGE SCHOOL | 000 Greer, Ava  |
| Houston | VILLAGE SCHOOL | 000 Pierce, Angela  |
| Houston | WESTCHESTER ACADEMY OF INTERNATIONAL STUDIES | 000 Knott, Isaac |
| Houston | WESTCHESTER ACADEMY OF INTERNATIONAL STUDIES | 000 Rosca-Halmagean, Zachary |
| Houston | WESTSIDE H. S. | 451 Agarwala, Siddharth  |
| Houston | WESTSIDE H. S. | 300 Bobbili, Karthik K.  |
| Houston | WESTSIDE H. S. | 000 Eagleson, Kyle A.  |
| Houston | WESTSIDE H. S. | 999 Mai, Thi C.  |
| Bellaire | BELLAIRE H. S. | 000 Balivada, Dhruv S.  |
| Bellaire | BELLAIRE H. S. | 000 Deng, Jason H. |
| Bellaire | BELLAIRE H. S. | 000 Do, Annelise M. |
| Bellaire | BELLAIRE H. S. | 000 Droste, Broderick A.  |
| Bellaire | BELLAIRE H. S. | 843 Haq, Wesley E. |
| Bellaire | BELLAIRE H. S. | 999 Jiu, Charles |
| Bellaire | BELLAIRE H. S. | 000 Kapur, Akshay |
| Bellaire | BELLAIRE H. S. | 457 Li, Sophia A. |
| Bellaire | BELLAIRE H. S. | 164 Menon, Sreedathan  |
| Bellaire | BELLAIRE H. S. | 450 Mulcahy, Colin J.  |
| Bellaire | BELLAIRE H. S. | 302 Nie, Delbert M. |
| Bellaire | BELLAIRE H. S. | 217 Parikh, Rohan S.  |
| Bellaire | BELLAIRE H. S. | 451 Praveen, Pranav  |
| Bellaire | BELLAIRE H. S. | 456 Shaw, Patrick W.  |
| Bellaire | BELLAIRE H. S. | 451 Shen, Tianran |
| Bellaire | BELLAIRE H. S. | 600 Ta, Katelyn Y. |
| Bellaire | BELLAIRE H. S. | 450 Wang, Helena C.  |
| Bellaire | BELLAIRE H. S. | 454 Wen, Samuel J.  |
| Bellaire | THE POST OAK SCHOOL | 000 Leo, Everest K. |
| Conroe | OAK RIDGE H. S. | 000 Balla, Rohan D.  |
| Conroe | OAK RIDGE H. S. | 000 Glennie, Morgan R.  |
| Katy | BRITISH INTERNATIONAL SCHOOL - HOUSTON | 000 Maulana, Abdul Rehman |
| Katy | CINCO RANCH H. S. | 456 Li, Jim |
| Katy | CINCO RANCH H. S. | 000 Mamtora, Sneh A. |
| Katy | CINCO RANCH H. S. | 000 Onianwa, Christine O.  |
| Katy | CINCO RANCH H. S. | 161 Shen, Kathy  |
| Katy | CINCO RANCH H. S. | 000 Shilk, Hannah E.  |
| Katy | CINCO RANCH H. S. | 000 Zhou, Jerry X.  |
| Katy | CINCO RANCH H. S. | 303 Zhou, Ryan  |
| Katy | HARMONY SCHOOL OF INNOVATION | 000 Mohabbat, Duran J. |
| Katy | KATY H. S. | 303 Parikh, Krish V. |
| Katy | SEVEN LAKES H. S. | 000 Ahn, Seung Bin |
| Katy | SEVEN LAKES H. S. | 773 Chazhikat, Tomin J. |
| Katy | SEVEN LAKES H. S. | 843 Chen, Kale S. |
| Katy | SEVEN LAKES H. S. | 000 Chern, Charity Y. |
| Katy | SEVEN LAKES H. S. | 000 Clarridge, Sarah J. |
| Katy | SEVEN LAKES H. S. | 000 Dabbiru, Sanjana |
| Katy | SEVEN LAKES H. S. | 000 Dong, Owen J. |
| Katy | SEVEN LAKES H. S. | 559 Finol Inciarte, Osman A.  |
| Katy | SEVEN LAKES H. S. | 160 Godbole, Shruti P. |
| Katy | SEVEN LAKES H. S. | 000 Gomola, Jeremi |
| Katy | SEVEN LAKES H. S. | 303 Gu, Kason K. |
| Katy | SEVEN LAKES H. S. | 000 Ishware, Aayush K. |
| Katy | SEVEN LAKES H. S. | 461 Jain, Manas |
| Katy | SEVEN LAKES H. S. | 999 Jang, Haseong |
| Katy | SEVEN LAKES H. S. | 000 Ji, Brady |
| Katy | SEVEN LAKES H. S. | 000 Jong, Samantha H. |
| Katy | SEVEN LAKES H. S. | 712 Krishnan, Keerthana  |
| Katy | SEVEN LAKES H. S. | 000 Lahiri, Rohan |
| Katy | SEVEN LAKES H. S. | 455 Lai, Aidan Zhong Han  |
| Katy | SEVEN LAKES H. S. | 302 Lawal, Fadhil E. |
| Katy | SEVEN LAKES H. S. | 627 Le, Brad |
| Katy | SEVEN LAKES H. S. | 999 Lee, Brandon T. |
| Katy | SEVEN LAKES H. S. | 457 Li, Victor R. |
| Katy | SEVEN LAKES H. S. | 459 Liao, Bo-Kai |
| Katy | SEVEN LAKES H. S. | 501 Lin, Shawn |
| Katy | SEVEN LAKES H. S. | 303 Liu, Antai A. |
| Katy | SEVEN LAKES H. S. | 000 Malik, Sarah S. |
| Katy | SEVEN LAKES H. S. | 160 Menon, Anagha K. |
| Katy | SEVEN LAKES H. S. | 999 Mir, Irshad A. |
| Katy | SEVEN LAKES H. S. | 185 Lew, Tristan |
| Katy | SEVEN LAKES H. S. | 456 Park, Jongseo |
| Katy | SEVEN LAKES H. S. | 999 Prabhugaonkar, Ojas V.  |
| Katy | SEVEN LAKES H. S. | 303 Prashanth, Sankalp |
| Katy | SEVEN LAKES H. S. | 000 Ramadan, Omar O. |
| Katy | SEVEN LAKES H. S. | 628 Shen, Jennifer |
| Katy | SEVEN LAKES H. S. | 450 Srinivasan, Ramya S.  |
| Katy | SEVEN LAKES H. S. | 830 Teng, Andy C. |
| Katy | SEVEN LAKES H. S. | 712 Veith, Davis M. |
| Katy | SEVEN LAKES H. S. | 740 Xiang, Michael |
| Katy | SEVEN LAKES H. S. | 457 Yaeger, Nicholas R. |
| Katy | SEVEN LAKES H. S. | 166 Yamaashi, Yui |
| Katy | SEVEN LAKES H. S. | 000 Yang, Ashley H. |
| Katy | SEVEN LAKES H. S. | 457 Yang, Jonathan J. |
| Katy | SEVEN LAKES H. S. | 788 Yu, Kathleen C. |
| Katy | SEVEN LAKES H. S. | 185 Zhu, Aaron E. |
| Katy | SEVEN LAKES H. S. | 303 Zhu, Jennifer  |
| Katy | JAMES E. TAYLOR H. S. | 628 Chung, Deborah G.  |
| Katy | JAMES E. TAYLOR H. S. | 000 Jackson, Ella T.  |
| Katy | JAMES E. TAYLOR H. S. | 214 Jackson, Tess T.  |
| Katy | JAMES E. TAYLOR H. S. | 303 Jallorina, Jedrik R.  |
| Katy | JAMES E. TAYLOR H. S. | 467 Lennon, Luke W.  |
| Katy | JAMES E. TAYLOR H. S. | 303 Lim, Wonkyu |
| Katy | JAMES E. TAYLOR H. S. | 161 Liu, Henry X.  |
| Katy | JAMES E. TAYLOR H. S. | 300 Pratama, Rizky A.  |
| Katy | OBRA D. TOMPKINS H. S. | 300 Cheng, Ray R. |
| Katy | OBRA D. TOMPKINS H. S. | 628 Chockalingam, Sarauswathy R.  |
| Katy | OBRA D. TOMPKINS H. S. | 451 Cole, Preston J. |
| Katy | OBRA D. TOMPKINS H. S. | 628 Longe, Ohireime M. |
| Katy | OBRA D. TOMPKINS H. S. | 161 Mohta, Akansha |
| Katy | OBRA D. TOMPKINS H. S. | 454 Shahid, Aishah A. |
| Katy | OBRA D. TOMPKINS H. S. | 628 Song, Peter H. |
| Katy | OBRA D. TOMPKINS H. S. | 000 Tahkku, Mira K. |
| Katy | OBRA D. TOMPKINS H. S. | 789 Yao, Kenneth J.  |
| Kingood | KINGWOOD H. S. | 450 Avery, Thomas J.  |
| Kingood | KINGWOOD H. S. | 000 Welborn, Cody S.  |
| Kingood | KINGWOOD H. S. | 301 Yelandur, Rohan  |
| Kingood | KINGWOOD PARK H. S. | 710 Early, Alice R. |
| Klein | KLEIN CAIN H. S. | 000 Heiman, Andrew S.  |
| Klein | KLEIN CAIN H. S. | 161 Pan, Tyler W. |
| Klein | KLEIN CAIN H. S. | 303 Vathul, Aneesh |
| Klein | KLEIN CAIN H. S. | 160 Wylie, Rebecca C.  |
| Klein | KLEIN H. S. | 000 Kim, Ian Y.  |
| Klein | KLEIN H. S. | 302 Tran, Ethan B.  |
| League City | BAY AREA CHRISTIAN SCHOOL | 467 Farland, Robert D. |
| League City | CLEAR CREEK H. S. | 999 Stevens, Bryan L.  |
| League City | CLEAR CREEK H. S. | 162 Young, Amelia L.  |
| League City | CLEAR FALLS H. S. | 999 Geppert, Christina E.  |
| League City | CLEAR FALLS H. S. | 303 Miles, Ethan H.  |
| League City | CLEAR SPRINGS H. S. | 303 Dake, Jared S. |
| Missouri City | ELKINS H. S. | 303 Ilochonwu, Nnamdi J. |
| Missouri City | ELKINS H. S. | 162 Nguyen, Darena D. |
| Missouri City | ELKINS H. S. | 300 Padilla, Carson W. |
| Missouri City | ELKINS H. S. | 789 Ryan, Brendan P. |
| Missouri City | ELKINS H. S. | 301 Shroff, Dev B. |
| Missouri City | ELKINS H. S. | 000 Yin, Kelly |
| Missouri City | L. V. HIGHTOWER H. S. | 628 Maniar, Arshi M. |
| Missouri City | L. V. HIGHTOWER H. S. | 000 Sekhar, Mhyank S. |
| Missouri City | L. V. HIGHTOWER H. S. | 000 Thekkel, Eric J. |
| Missouri City | RIDGE POINT H. S. | 470 Devenish, Christian L.  |
| Missouri City | RIDGE POINT H. S. | 185 Mok, Zachary L.  |
| Pearland | GLENDA DAWSON H. S. | 000 Jin, Hantao |
| Pearland | GLENDA DAWSON H. S. | 000 Kuzmenko, Sasha X. |
| Pearland | GLENDA DAWSON H. S. | 970 Walsworth-Purkiss, Benjamin H.  |
| Pearland | GLENDA DAWSON H. S. | 000 Wright, Alexander S.  |
| Pearland | GLENDA DAWSON H. S. | 000 Yao, Melinda 000 Zhang, Haoqi  |
| Pearland | PEARLAND H. S. | 451 Pierce, Brady A. |
| Pearland | SHADOW CREEK H. S. | 000 Escobar, Zachary  |
| Pearland | SHADOW CREEK H. S. | 163 Luong, Kalyn |
| Pearland | SHADOW CREEK H. S. | 000 Mathew, Jacob  |
| Pearland | SHADOW CREEK H. S. | 000 Varma, Nikhil V.  |
| Pearland | SHADOW CREEK H. S. | 000 Verma, Prisha  |
| Pearland | ROBERT TURNER COLLEGE AND CAREER H. S. | 300 Lambert, Thomas C. |
| Pearland | ROBERT TURNER COLLEGE AND CAREER H. S. | 000 MacPhail, Ian A.  |
| Pearland | ROBERT TURNER COLLEGE AND CAREER H. S. | 000 Norman, Kaytlynn M.  |
| Richmond | FOSTER H. S. | 161 Al-Naqeeb, Rian Y.  |
| Richmond | FOSTER H. S. | 830 Webster, Lucian A.  |
| Richmond | GEORGE RANCH H. S. | 453 Miller, Jake H. |
| Richmond | GEORGE RANCH H. S. | 000 Skinner, Ryan A.  |
| Richmond | GEORGE RANCH H. S. | 301 Song, Jiaying  |
| Richmond | WILLIAM B. TRAVIS H. S. | 300 Chang, Evan |
| Richmond | WILLIAM B. TRAVIS H. S. | 628 Dharia, Rohan T. |
| Richmond | WILLIAM B. TRAVIS H. S. | 870 Fu, Crystal J.  |
| Richmond | WILLIAM B. TRAVIS H. S. | 000 Mahdi, Haider  |
| Richmond | WILLIAM B. TRAVIS H. S. | 000 Sunesara, Ayaan  |
| Spring | FOUNDERS CHRISTIAN SCHOOL | 000 Dittman, Levi |
| Spring | GRAND OAKS H. S. | 000 Chandler, Aiden T. |
| Spring | GRAND OAKS H. S. | 000 Coutee, Landon C. |
| Spring | GRAND OAKS H. S. | 000 Handsborough, Dominic J. 000 Vander Wall, Owen L. |
| Spring | KLEIN COLLINS H. S. | 970 Ha, Isaac T. |
| Spring | KLEIN COLLINS H. S. | 160 Zielinska, Zofia A. |
| Spring | KLEIN OAK H. S. | 843 Bollenbacher, Jack W.  |
| Spring | KLEIN OAK H. S. | 303 Jiang, Andy A. |
| Spring | KLEIN OAK H. S. | 303 Momin, Ziya B.  |
| Spring | PROVIDENCE CLASSICAL SCHOOL | 821 Williamson, Mark G. |
| Stafford | Homeschool | 000 Israni, Deven |
| Stafford | Homeschool | 000 Israni, Shaun |
| Sugar Land | STEPHEN F. AUSTIN H. S. | 000 Adusumilli, Anusha  |
| Sugar Land | STEPHEN F. AUSTIN H. S. | 000 Jia, Margaret |
| Sugar Land | STEPHEN F. AUSTIN H. S. | 000 Kasotia, Aashi S.  |
| Sugar Land | STEPHEN F. AUSTIN H. S. | 300 Kazi, Ahmed A. |
| Sugar Land | STEPHEN F. AUSTIN H. S. | 000 Lee, Chloe Y. |
| Sugar Land | STEPHEN F. AUSTIN H. S. | 303 Natarajan, Mahika P.  |
| Sugar Land | STEPHEN F. AUSTIN H. S. | 162 Saha, Pia |
| Sugar Land | STEPHEN F. AUSTIN H. S. | 000 Smith, Jessica A.  |
| Sugar Land | STEPHEN F. AUSTIN H. S. | 000 Wang, Alexander R.  |
| Sugar Land | STEPHEN F. AUSTIN H. S. | 450 Wei, Andy Y. |
| Sugar Land | STEPHEN F. AUSTIN H. S. | 000 Yi, Ziduo |
| Sugar Land | STEPHEN F. AUSTIN H. S. | 306 Yuan, Ryan  |
| Sugar Land | WILLIAM P. CLEMENTS H. S. | 311 Amat, Enoch Y. |
| Sugar Land | WILLIAM P. CLEMENTS H. S. | 000 Arora, Aryan D. |
| Sugar Land | WILLIAM P. CLEMENTS H. S. | 303 Bora, Aryan  |
| Sugar Land | WILLIAM P. CLEMENTS H. S. | 303 Chen, Aaron W.  |
| Sugar Land | WILLIAM P. CLEMENTS H. S. | 710 Chen, David W. |
| Sugar Land | WILLIAM P. CLEMENTS H. S. | 300 Christiono, Anne M.  |
| Sugar Land | WILLIAM P. CLEMENTS H. S. | 000 Du, Anthony  |
| Sugar Land | WILLIAM P. CLEMENTS H. S. | 459 Gong, Qimiao |
| Sugar Land | WILLIAM P. CLEMENTS H. S. | 168 Gummadi, Rohan |
| Sugar Land | WILLIAM P. CLEMENTS H. S. | 000 Hegde, Nischay |
| Sugar Land | WILLIAM P. CLEMENTS H. S. | 303 Huang, Wenda |
| Sugar Land | WILLIAM P. CLEMENTS H. S. | 000 Hwang, Adam |
| Sugar Land | WILLIAM P. CLEMENTS H. S. | 000 Jun, Alexander Y. |
| Sugar Land | WILLIAM P. CLEMENTS H. S. | 836 Kelkar, Ruhi |
| Sugar Land | WILLIAM P. CLEMENTS H. S. | 303 Kumar, Anurag R. |
| Sugar Land | WILLIAM P. CLEMENTS H. S. | 000 Li, Tina |
| Sugar Land | WILLIAM P. CLEMENTS H. S. | 000 Patel, Om H. |
| Sugar Land | WILLIAM P. CLEMENTS H. S. | 000 Pichardo, Paloma |
| Sugar Land | WILLIAM P. CLEMENTS H. S. | 000 Sanghi, Ruchika A. |
| Sugar Land | WILLIAM P. CLEMENTS H. S. | 303 Skaria, Rianna R. |
| Sugar Land | WILLIAM P. CLEMENTS H. S. | 301 Song, Alexander M. |
| Sugar Land | WILLIAM P. CLEMENTS H. S. | 742 Vaidyanathan, Kavya M.  |
| Sugar Land | WILLIAM P. CLEMENTS H. S. | 000 Wan, Joshua M. |
| Sugar Land | WILLIAM P. CLEMENTS H. S. | 000 Wang, Emma V. |
| Sugar Land | WILLIAM P. CLEMENTS H. S. | 301 Wu, Hanyi |
| Sugar Land | WILLIAM P. CLEMENTS H. S. | 303 Xu, Viola R.  |
| Sugar Land | WILLIAM P. CLEMENTS H. S. | 301 Zhang, Leo Y.  |
| Sugar Land | WILLIAM P. CLEMENTS H. S. | 000 Zuo, William C.  |
| Sugar Land | DULLES H. S. | 000 Aggarwal, Anushka |
| Sugar Land | DULLES H. S. | 000 Asthana, Anantshri N. |
| Sugar Land | DULLES H. S. | 000 Chacko, Isaac N. |
| Sugar Land | DULLES H. S. | 000 Chikkula, Akhila R. |
| Sugar Land | DULLES H. S. | 000 Copold, Jeffrey B. |
| Sugar Land | DULLES H. S. | 000 Elahi, Maria |
| Sugar Land | DULLES H. S. | 200 Grapeson, Brionna |
| Sugar Land | DULLES H. S. | 870 Gundlapalli, Saikrishna K.  |
| Sugar Land | DULLES H. S. | 000 Horiszny, Juliana F. |
| Sugar Land | DULLES H. S. | 999 Jonsson, Pablo J. |
| Sugar Land | DULLES H. S. | 000 Lam, Tran T. |
| Sugar Land | DULLES H. S. | 121 Li, Boping |
| Sugar Land | DULLES H. S. | 000 Li, Justin J. |
| Sugar Land | DULLES H. S. | 000 Lin, Caleb A. |
| Sugar Land | DULLES H. S. | 303 Nguyen, Benjamin Tri M.  |
| Sugar Land | DULLES H. S. | 161 Pradhan, Jayani |
| Sugar Land | DULLES H. S. | 628 Sajith, Iana M. |
| Sugar Land | DULLES H. S. | 000 Shah, Ronil M. |
| Sugar Land | DULLES H. S. | 000 Thomas, Allen A. |
| Sugar Land | DULLES H. S. | 303 Tran, Dan D. |
| Sugar Land | DULLES H. S. | 000 Udeshi, Aishwaryaa H.  |
| Sugar Land | DULLES H. S. | 628 Wu, Jason A. |
| Sugar Land | DULLES H. S. | 000 Yuan, Maggie Y.  |
| Sugar Land | FORT BEND CHRISTIAN ACADEMY | 000 Liu, Joana L. |
| Sugar Land | HARMONY SCHOOL OF INNOVATION | 000 Akyurek, Furkan  |
| Sugar Land | HARMONY SCHOOL OF INNOVATION | 000 Ghanchi, Iqbal  |
| Sugar Land | HARMONY SCHOOL OF INNOVATION | 000 Kaka, Kaamil M.  |
| Sugar Land | I. H. KEMPNER H. S. | 000 Pillai, Jai R. |
| The Woodlands | JOHN COOPER SCHOOL | 000 Hortman, Madeleine L.  |
| The Woodlands | JOHN COOPER SCHOOL | 999 Kansal, Vikram |
| The Woodlands | JOHN COOPER SCHOOL | 000 Lu, Timothy T.  |
| The Woodlands | JOHN COOPER SCHOOL | 451 Milan, Daniel E. |
| The Woodlands | JOHN COOPER SCHOOL | 185 Nieuwveld, Hannah K.  |
| The Woodlands | JOHN COOPER SCHOOL | 741 Pakal, Aditya |
| The Woodlands | JOHN COOPER SCHOOL | 999 Sebastian, Felicity A.  |
| The Woodlands | JOHN COOPER SCHOOL | 000 Taylor, Ryan D. |
| The Woodlands | JOHN COOPER SCHOOL | 628 Wu, Annabelle J.  |
| The Woodlands | LEGACY PREPARATORY CHRISTIAN ACADEMY | 000 Brown, Levi G. |
| The Woodlands | THE WOODLANDS COLLEGE PARK H. S. | 990 Ahmad, Arman N. |
| The Woodlands | THE WOODLANDS COLLEGE PARK H. S. | 000 Ashford, Kate E.  |
| The Woodlands | THE WOODLANDS COLLEGE PARK H. S. | 000 Ashford, Mila J. |
| The Woodlands | THE WOODLANDS COLLEGE PARK H. S. | 000 Batza, Landon N. |
| The Woodlands | THE WOODLANDS COLLEGE PARK H. S. | 450 Birney, Meghan I. |
| The Woodlands | THE WOODLANDS COLLEGE PARK H. S. | 000 Daniels, Jacob R. |
| The Woodlands | THE WOODLANDS COLLEGE PARK H. S. | 161 Elliott, Bethany P. |
| The Woodlands | THE WOODLANDS COLLEGE PARK H. S. | 185 Eshetu, Isabel G. |
| The Woodlands | THE WOODLANDS COLLEGE PARK H. S. | 000 Ghosh, Rishab |
| The Woodlands | THE WOODLANDS COLLEGE PARK H. S. | 000 Jeong, Hana |
| The Woodlands | THE WOODLANDS COLLEGE PARK H. S. | 000 Jones, Claire T. |
| The Woodlands | THE WOODLANDS COLLEGE PARK H. S. | 000 Mehta, Rohan N. |
| The Woodlands | THE WOODLANDS COLLEGE PARK H. S. | 303 Mehta, Roshan N. |
| The Woodlands | THE WOODLANDS COLLEGE PARK H. S. | 162 Moriyasu, Avery T. |
| The Woodlands | THE WOODLANDS COLLEGE PARK H. S. | 201 Mundra, Shivani |
| The Woodlands | THE WOODLANDS COLLEGE PARK H. S. | 000 Shen, Cindy |
| The Woodlands | THE WOODLANDS COLLEGE PARK H. S. | 160 Song, Kathleen J. |
| The Woodlands | THE WOODLANDS COLLEGE PARK H. S. | 301 Suh, Asong E. |
| The Woodlands | THE WOODLANDS COLLEGE PARK H. S. | 463 Thibodeaux, Zachary M.  |
| The Woodlands | THE WOODLANDS COLLEGE PARK H. S. | 000 Woravka, Nicholas A.  |
| The Woodlands | THE WOODLANDS COLLEGE PARK H. S. | 000 Zhang, Acacia S. |
| The Woodlands | THE WOODLANDS COLLEGE PARK H. S. | 311 Zhang, Grace J.  |
| The Woodlands | THE WOODLANDS H. S. | 000 Antonov, Mark |
| The Woodlands | THE WOODLANDS H. S. | 000 Gomez Sanchez, Matyas W.  |
| The Woodlands | THE WOODLANDS H. S. | 451 Gupta, Krishan  |
| The Woodlands | THE WOODLANDS H. S. | 000 Karp, Gidean |
| The Woodlands | THE WOODLANDS H. S. | 000 Ma, Stephanie C.  |
| The Woodlands | THE WOODLANDS H. S. | 000 McCoy, Brooks E.  |
| The Woodlands | THE WOODLANDS H. S. | 000 Neal, John P.  |
| The Woodlands | THE WOODLANDS H. S. | 000 Schoen, Kushal |
| The Woodlands | THE WOODLANDS H. S. | 000 Tran, Alexa K. |
| The Woodlands | THE WOODLANDS H. S. | 743 Uthman, Nicholas J.  |
| The Woodlands | THE WOODLANDS H. S. | 559 Vaughan, Joseph J.  |
| Tomball | TOMBALL H. S. | 459 Dougherty, Carolyn A.  |
| Tomball | TOMBALL H. S. | 000 Klein, William R.  |
| Tomball | TOMBALL MEMORIAL H. S. | 303 Chang, Gene W. |
| Tomball | TOMBALL MEMORIAL H. S. | 303 Masilamony, Ishaan  |
| Tomball | TOMBALL MEMORIAL H. S. | 907 Mejia, Sophie E.  |
| Tomball | TOMBALL MEMORIAL H. S. | 451 Patterson, Noah D.  |
| Tomball | TOMBALL MEMORIAL H. S. | 000 Thomas, Sarah K.  |
| Tomball | TOMBALL STAR ACADEMY | 303 Feng, Andrew B. |
| Cypress | BRIDGELAND H. S. | 000 Ahmed, Samah A. |
| Cypress | BRIDGELAND H. S. | 000 Davis, Griffin T. |
| Cypress | BRIDGELAND H. S. | 000 Eshelman, Alexander G. |
| Cypress | BRIDGELAND H. S. | 000 Mock, Robert A. |
| Cypress | BRIDGELAND H. S. | 000 Nally, Emma K. |
| Cypress | BRIDGELAND H. S. | 000 Orenstein, Adelle R. |
| Cypress | BRIDGELAND H. S. | 000 Potta, Siddharth |
| Cypress | BRIDGELAND H. S. | 000 Vuong, Tracy |
| Cypress | CY - FAIR H. S. | 303 Ajoy, Amogh |
| Cypress | CY - FAIR H. S. | 303 Dhanuka, Krish |
| Cypress | CY - FAIR H. S. | 999 Godfrey, Savannah S. |
| Cypress | CY - FAIR H. S. | 162 Hang, Elyse T. |
| Cypress | CY - FAIR H. S. | 450 Pandher, Gurkiran K. |
| Cypress | CY - FAIR H. S. | 303 Wolfram, Ryan M. |
| Cypress | CYPRESS RANCH H. S. | 000 Lee, Dylan H. |
| Cypress | CYPRESS RANCH H. S. | 000 Menon, Bhavik A. |
| Cypress | CYPRESS RANCH H. S. | 000 Nair, Eesha R. |
| Cypress | CYPRESS RANCH H. S. | 999 Vo, Bradley H. |
| Cypress | CYPRESS WOODS H. S. | 628 Iyengar, Riddhi M. |
| Cypress | CYPRESS WOODS H. S. | 628 Leonard, Susan K. |
| Baytown | GOOSE CREEK MEMORIAL H. S. | 185 Gupta, Swayam |
| Friendswood | FRIENDSWOOD H. S. | 773 Cabrera, Antonio J. |
| Friendswood | FRIENDSWOOD H. S. | 742 Fudge, Edward J. |
| Friendswood | FRIENDSWOOD H. S. | 000 Lynch, Rylan B. |
| Friendswood | FRIENDSWOOD H. S. | 000 Nguyen, Aldrich A. |
| Friendswood | FRIENDSWOOD H. S. | 000 Saul, James L. |
| Fulshear | FULSHEAR H. S. | 742 Bryant, Brooks R. |
| Fulshear | JORDAN H. S. | 185 Chen, Keyue |
| Fulshear | JORDAN H. S. | 000 Dheer, Vanshika |
| Fulshear | JORDAN H. S. | 161 Gurmen, Pelin D. |
| Fulshear | JORDAN H. S. | 161 Hari, Nivedita |
| Fulshear | JORDAN H. S. | 870 Hernandez Carpio, Maria A. |
| Fulshear | JORDAN H. S. | 303 Lowry, Tiffany L. |
| Fulshear | JORDAN H. S. | 303 Nazarali, Amal S. |
| Fulshear | JORDAN H. S. | 451 Pasunuri, Ananya R. |
| Fulshear | JORDAN H. S. | 000 Ting, Matthew Z. |
| Fulshear | JORDAN H. S. | 467 Wang, Crystal Z. |
| Fulshear | JORDAN H. S. | 000 Wang, Haochen |
| Denton | TEXAS ACADEMY OF MATHEMATICS AND SCIENCE | 000 Beard, Nathan G. |
| Denton | TEXAS ACADEMY OF MATHEMATICS AND SCIENCE | 185 Chau, Allison P. |
| Denton | TEXAS ACADEMY OF MATHEMATICS AND SCIENCE | 000 Chen, Tony |
| Denton | TEXAS ACADEMY OF MATHEMATICS AND SCIENCE | 000 Copling, Nikhil S. |
| Denton | TEXAS ACADEMY OF MATHEMATICS AND SCIENCE | 000 Evangelopoulos, Alexander V. |
| Denton | TEXAS ACADEMY OF MATHEMATICS AND SCIENCE | 000 Garg, Ria |
| Denton | TEXAS ACADEMY OF MATHEMATICS AND SCIENCE | 000 Goel, Sarang |
| Denton | TEXAS ACADEMY OF MATHEMATICS AND SCIENCE | 000 Hao, Alexander H. |
| Denton | TEXAS ACADEMY OF MATHEMATICS AND SCIENCE | 303 Kandi, Pradyumna R. |
| Denton | TEXAS ACADEMY OF MATHEMATICS AND SCIENCE | 000 Kim, Eunwan |
| Denton | TEXAS ACADEMY OF MATHEMATICS AND SCIENCE | 000 Kim, Nayeon |
| Denton | TEXAS ACADEMY OF MATHEMATICS AND SCIENCE | 000 Li, Matthew J. |
| Denton | TEXAS ACADEMY OF MATHEMATICS AND SCIENCE | 301 Madhuvarshi, Alisha |
| Denton | TEXAS ACADEMY OF MATHEMATICS AND SCIENCE | 000 Ostrowicki, Sadie R. |
| Denton | TEXAS ACADEMY OF MATHEMATICS AND SCIENCE | 161 Padmanathan, Prasanna |
| Denton | TEXAS ACADEMY OF MATHEMATICS AND SCIENCE | 000 Pillai, Aryan |
| Denton | TEXAS ACADEMY OF MATHEMATICS AND SCIENCE | 000 Ramineni, Sanjana M. |
| Denton | TEXAS ACADEMY OF MATHEMATICS AND SCIENCE | 000 Ravulapati, Mahith |
| Denton | TEXAS ACADEMY OF MATHEMATICS AND SCIENCE | 301 Rebello, Ethan A. |
| Denton | TEXAS ACADEMY OF MATHEMATICS AND SCIENCE | 000 Sailesh, Shreyas F. |
| Denton | TEXAS ACADEMY OF MATHEMATICS AND SCIENCE | 000 Samineedi, Alan T. |
| Denton | TEXAS ACADEMY OF MATHEMATICS AND SCIENCE | 000 Sheth, Sonia |
| Denton | TEXAS ACADEMY OF MATHEMATICS AND SCIENCE | 166 Sunkavalli, Nikhil C. |
| Denton | TEXAS ACADEMY OF MATHEMATICS AND SCIENCE | 303 Tandra, Pradyun R. |
| Denton | TEXAS ACADEMY OF MATHEMATICS AND SCIENCE | 000 Varanasi, Arihan |
| Denton | TEXAS ACADEMY OF MATHEMATICS AND SCIENCE | 000 Verma, Simran |
| Denton | TEXAS ACADEMY OF MATHEMATICS AND SCIENCE | 301 Vyas, Advay |
| Denton | TEXAS ACADEMY OF MATHEMATICS AND SCIENCE | 000 Wang, Olivia Y. |
| Denton | TEXAS ACADEMY OF MATHEMATICS AND SCIENCE | 000 Yao, Emily Y. |
| Denton | TEXAS ACADEMY OF MATHEMATICS AND SCIENCE | 000 Zhang, Donovan |
| Denton | TEXAS ACADEMY OF MATHEMATICS AND SCIENCE | 000 Zhao, Ashley J. |
| Denton | TEXAS ACADEMY OF MATHEMATICS AND SCIENCE | 162 Zimmermann, Hailyn L. |
| City | School | Student |
This article was last updated on September 14, 2023