Our College Admissions and Applications Offerings
The college admissions process can feel daunting for students and their families. With so many dates, deadlines, and moving pieces to be aware of, we're here to help you and your student understand it all.
Our college admissions information sessions are approximately one hour long (including time for some questions) and are available to current and potential clients alike.
At each session, we cover:
timeline and expectations for applications and admissions
how to research colleges and build a college list
key factors in admissions decisions (what colleges care about)
how we can help your student from start to finish, including what resources we use
Upcoming info session dates include:
Tuesday, July 25 at 5:00PM
Tuesday, August 8 at 5:00PM
Tuesday, August 22 at 5:00PM
Tuesday, September 5 at 5:00PM
Tuesday, September 19 at 5:00PM
We hope to have you and your student join us soon!
We offer a complete range of services to help students get into the best college for them, including comprehensive packages or hourly services depending on each student's unique needs.
Our Essential and Comprehensive packages for applications and admissions include a prepayment discount on the instructor's hourly rate (typically $130-$200/hour).
Essential – Step-by-step help with college planning, application completion, and essay writing for 1 school.
Comprehensive – Everything in the Essential package for up to 10 schools plus interview preparation and offer evaluation.
All packaged services can also be completed during hourly tutorials.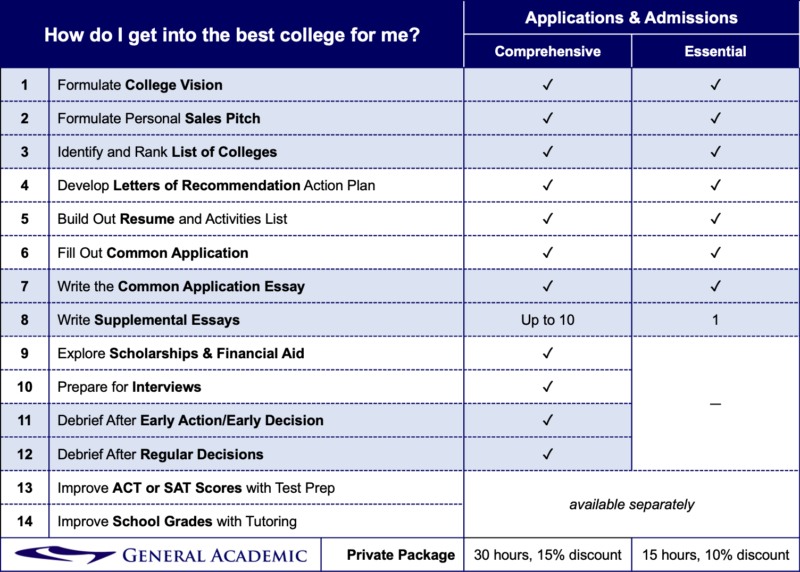 Steps in the College Applications and Admissions Process
Students need to envision themselves in college, in a career, and as mature adults. Into what type of adult do they want themselves to grow into? And how do they think that one of the U.S.'s 3,000+ colleges will help them realize that vision?
This vision-building process starts as soon as the child is born, as they are influenced by their parents, siblings, peers, and community. It accelerates in middle school, and it becomes structured in high school in the lead up to college applications.
I want to cure cancer when I grow up. I am proud of my parents' work as medical doctors, and I have been saddened and frustrated knowing so many people afflicted with this scourge who have not been cured.
Basic Steps in Formulating a College Vision and Sales Pitch
1. Formulate a College Vision – What do you want to get out of your college experience?
2. Formulate a Personal Sales Pitch – Why are a good candidate for your target colleges?
3. Identify and Rank Colleges – Determine what 6-10 colleges you are going to apply to and why.
The application is the easy part of the college applications process; all it entails is communicating to colleges the student's vision, plan, and record–in a succinct and compelling manner. Primary components of the application include the actual form, resume/ short answers, and essays.
My application will be compelling in its brevity and clarity. There will be no doubt about the strengths I will bring to colleges.
Basic Steps in Filling out College Applications
4. Develop Letters of Recommendation Action Plan – What story should they tell, and who should write it?
5. Build Out Resume and Activities List – Assemble the evidence that you're a good candidate.
6. Fill out the Common Application – This is the basic application for most colleges in the US.
7. Fill out the ApplyTexas Application – This is the basic application for most colleges in Texas.
Essays fill in the rest of the story that test scores and activity lists do not adequately tell. They're the student's opportunity to share their voice and make an indelible impression on the admissions committee.
Let me tell you a story that demonstrates how committed I am to making the world a better place for future generations.
Basic Steps to Writing College Essays
8. Write the Common Application Essay – There are a few options; choose the one that highlights you the best.
9. Write Supplementary Essay/s – Most selective colleges require an extra essay in addition to the Common App.
Read more about our tips for writing an outstanding college application essay.
Interviews with college alumni and admissions officers need to reinforce the story presented in the student's application materials. And students need to make sure they're making financially sound decisions and taking advantage of scholarship opportunities that not only lower financial costs but also make their application stand out.
Let me tell you why I'm a good fit for your college, and demonstrate how much I want to attend.
Basic Steps in Preparing for College Interviews & Making Sensible Choices
10. Prepare for Interviews – You know you're a good candidate; make sure your interviewer sees it.
11. Explore Scholarships & Financial Aid – Ensure you're making a sensible decision and minimizing costs.
There are two primary college application deadlines—Early Decision and Regular Decision. While not every college allows it, students generally apply early to their top choice school in November and hear back by December. Generally they also submit their remaining applications in December and hear back in March. After each notification period, students will be notified whether they are accepted, rejected, or wait-listed.
Even though I'm wait-listed, let me remind you why I really want to attend your college.
Basic Steps in Analyzing College Notifications and Offers
12. Debrief After Early Decisions – Discuss what to do if accepted or rejected at this early phase.
13. Debrief After Regular Decisions – Discuss what to do after all your decisions have come back.
A student's grades in school and their scores on the ACT and SAT are some of the most important numbers that colleges will evaluate. However, many colleges went "test optional" during the pandemic. Our recommendation is to always prepare and take the ACT and SAT and submit the scores if they are within the generally accepted range for the target college. If the student does not submit standardized test scores, that will make the rest of their application much more important–grades, essays, and activities.
My good grades and high test scores show that I can excel in academics.
Basic Steps to Improving School Grades and ACT and SAT Scores
14. Improve ACT or SAT Scores – Optionally work to increase your scores.
15. Improve School Grades – Optionally work to improve your grades.
College Admissions Timeline
While the majority of a student's K12 academic career revolves around college preparation, the actual nuts and bolts of the application process typically start the summer before or during the fall semester of junior year (11th grade).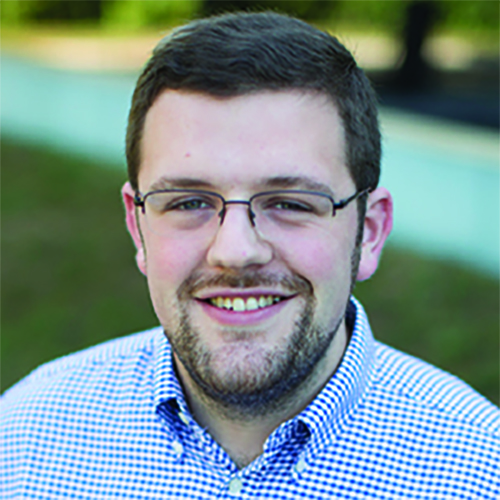 Andy Peters leads our College Counseling services.
Andy holds a Master's in Education from the University of Michigan and a Certificate in College Access Counseling from Rice University.
College Admissions FAQs
What do colleges take into account when assessing an application?
Andy Peters
2023-09-28T13:05:47-05:00
College admissions officers assess applications holistically, meaning they evaluate the "whole" student. No factor (including grades, test scores, or extracurriculars) is considered in a vacuum; rather, these pieces are all assessed in the context of each student's unique background.
With that being said, a student's academic record (including their grades and course selections) tend to be the most important part of each application. College vary in terms of which factors they consider and how they weigh them; most colleges provide insight into these factors on their Common Data Set document (try searching the web for "[College Name] + Common Data Set").
Why Choose General Academic