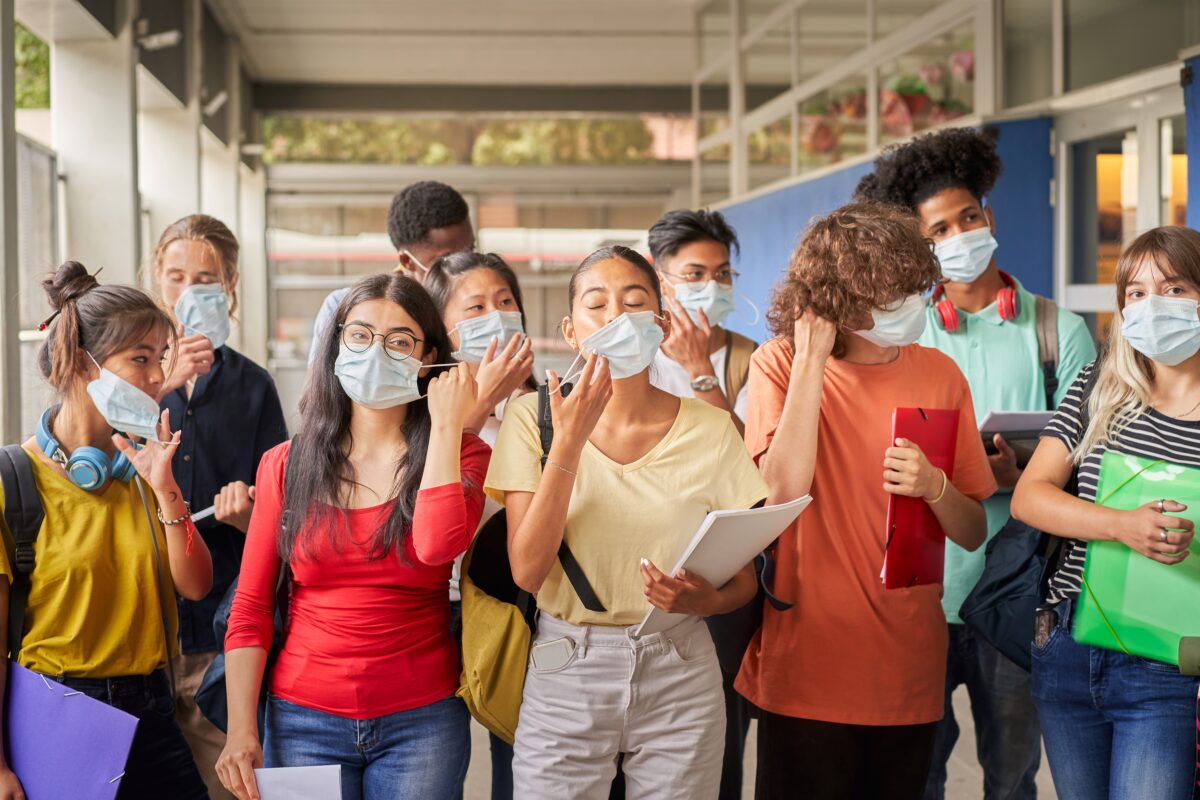 Houston's Smartest Seniors Brush Aside Pandemic to Ace the PSAT
The 2023 National Merit Scholarship Competition was a rebound testing year for Houston-area high school seniors. There were 476 area seniors who scored in the top 1% on the PSAT to earn the celebrated "Semifinalist" designation. Versus 379 Semifinalists in the previous year, there were 17% more brilliant students in Houston this go around.
Note that this article is about a previous year. Click here for the 2023-2024 National Merit results released on September 13, 2023.
The year-long road to being named a National Merit Semifinalist starts in mid-October of the previous year (current juniors will sit on October 12, 2022). Approximately 1.5 million students participated in this year's competition, which represents a big increase in participation versus the previous year.
Click here to go straight to the names of the Semifinalists!
Cutoff Scores for Texas National Merit Semifinalists and Commended Scholars 
A National Merit Semifinalist (NMSF) is a student who scored in the top 1% of high school juniors on the PSAT in their state (October of 2021 for this year's winners). The PSAT is essentially a slightly shorter version of the popular SAT college admissions test.
To win the coveted "Semifinalist" designation in Texas for the 2021-2022 competition, students must have earned a "selection index" score of 219 out of 228 (down from 220 for the previous year), which is roughly equivalent to a 1490 out of 1600 SAT composite score.
To earn the less prestigious but still admirable "Commended" designation nationwide, students must have earned a selection index score of 207 or roughly a 1380 on the SAT, which places them approximately in the top 5% of PSAT takers.
The number and percentage of awardees is one of the only statistics that is cross-comparable between private and public high schools. Since the national average is just 1%, any school that boasts more than 1% of their senior class as National Merit Semifinalists is graduating smarter students than average.
Houston's Top High Schools by National Merit Semifinalists
St. John's School in River Oaks maintained its enduring reputation as the top Houston-area school–public or private–where the smartest kids choose to go. St. John's saw a return to their normal standards, with 32 seniors, or nearly 23%, of its senior class qualifying as Semifinalists this year versus 11% in 2021.
Kinkaid School and Strake Jesuit round out the top 3 Houston private schools with approximately 15 (10%) and 17 (7%) of their seniors being named Semifinalists, respectively.
Houston ISD's (HISD) Carnegie Vanguard High School managed to retain its spot ahead of any other public school in the Houston metro area. Their 12 Semifinalists represent 7% of its class, or 7x the national average.
Rounding out this list and tying for 5th, Debakey High School and Awty International each had approximately 4% of their students achieve National Merit Semifinalist status.
The suburban high schools in Sugarland and Katy remain stalwarts in the Houston metro area. 
76 (17%) of the Houston-area total Semifinalists hailed from Katy ISD, of which 28 are at Seven Lakes High School.
69 (15%) of top scoring seniors came from Fort Bend ISD (Sugarland), and more than half of those students came from both Dulle High School and Clements High School.
At the statewide level, public boarding school Texas Academy for Math and Science (TAMS), 40 seniors were National Merit Semifinalists-nearly 20% of the class.
Key Takeaways From the 2022 Semifinalists Announcement
St. John's School rebounds and ensures a continued reputation as the smartest school in the city.
But HISD's Carnegie Vanguard demonstrates that families don't have to pay for private school to get high-quality educational opportunities.
And the suburban school districts in Katy and Sugarland remain fiercely competitive for talent.
Top College Majors for Smart Students
The most popular college majors of interest for Houston's brightest graduates are computer science, engineering, and bioscience. However, more than 50% of students did not indicate a preference or complete the form.
(A student's intended major is designated by the three digit code in front of their name in the table below. Click here for the full description of these college majors.)
Computer Science (code 30x) – 9% of Houston's Semifinalists
Engineering (45x) – 8%
Bioscience (16x) – 7.5%
Health Professions (6xx) – 7%
Business Management (2xx) – 4.5%
Social Sciences (9xx) – 4%
In a paradigm shift in energy and bio-heavy Houston, Computer Science became the most selected intended major among these excellent students as compared to last year. Bioscience remains a consistent choice among Houston area students, with Business and Social Sciences neck-in neck t0 complete this list.
National Merit Scholarships Can Mean Free College
In a typical year, 1.5 million students across more than 20,000 US high schools participate in the National Merit Scholarship competition beginning the fall of their junior year. Juniors compete by sitting for what is essentially an abbreviated, practice SAT (PSAT).
Semi-Finalists, the most important designation, represent the top 1% of the approximate 1.5 million test-takers. National Merit Semi-Finalists generally qualify for scholarships that can range from full tuition at certain public colleges to $5,000 and $10,000 scholarships at prestigious, private universities.
Texas colleges offering full-rides include the University of Houston, UT Arlington, UT Dallas, UT Tyler, UNT Dallas, Abilene Christian, and Lubbock Christian.
Approximately 15,000 out of 16,000 semi-finalists then go on to be designated finalists. Finalists are typically chosen in accordance with their school grades and ACT or SAT test scores.
​Lastly, a little over half of the finalists are designated "Merit-Scholarship" recipients, meaning that they get the fancy title and one-time $2,500 cash payment. Scholarship winners are selected "based on their abilities, skills, and accomplishments."
These NMSF figures are particularly attractive, versus SAT and ACT scores, because they're publicly available from the National Merit Scholarship Corporation; conversely, schools do not have to disclose the SAT and ACT scores of their students. And when private schools do disclose SAT/ACT scores, it's often presented in a way that's difficult to read and/or compare.
Names of National Merit Semifinalists
This list includes Houston, Bellaire, Humble, Katy, Kingwood, League City, Pearland, Sugarland, The Woodlands, and the Texas Academy for Math and Science at Denton.
Click here for the original press release from National Merit Scholarship Corporation, which contains the names of all winners in the state of Texas.
NMSF Students 2023
| City | School | Student |
| --- | --- | --- |
| Houston | Awty International | 000 Arikan, Arda A. |
| Houston | Awty International | 000 Charlton, Sophie A. |
| Houston | Awty International | 000 Neal, Sydney E. |
| Houston | Awty International | 000 Sami, Sophiya S. |
| Houston | Bellaire HS | 999 Berry, Augustus C. |
| Houston | Bellaire HS | 000 Chang, Sidney S. |
| Houston | Bellaire HS | 000 Ding, Cady |
| Houston | Bellaire HS | 000 He, Amy |
| Houston | Bellaire HS | 999 Ho, Christopher L. |
| Houston | Bellaire HS | 160 Hu, Aisling E. |
| Houston | Bellaire HS | 303 Huang, Andrew K. |
| Houston | Bellaire HS | 999 Kim, Evan J. |
| Houston | Bellaire HS | 999 Li, Letian |
| Houston | Bellaire HS | 999 Nguyen, Anthony K. |
| Houston | Bellaire HS | 628 Park, Amy S. |
| Houston | Bellaire HS | 000 Rubin, Alexander Conroy |
| Houston | Bellaire HS | 843 Sunkavalli, Suvan V. |
| Houston | Bellaire HS | 000 Tom, Bradley A. |
| Houston | Bellaire HS | 950 Truitt, Charles E. |
| Houston | Bellaire HS | 000 Wallach, Nina L. |
| Houston | Bellaire HS | 900 Wang, Yanke |
| Houston | Bellaire HS | 000 Way, Jasmine E. |
| Houston | Bellaire HS | 160 Xu, Reina C. |
| Houston | Bellaire HS | 302 Yennu, Rishi R. |
| Houston | Bellaire HS | 303 Zhang, Weifan |
| Houston | Episcopal HS | 162 Gami, Ava |
| Houston | Episcopal HS | 000 Maki, Grayson |
| Houston | Episcopal HS | 500 Peeler, Carter |
| Houston | Carnegie Vanguard HS | 999 Barnett, Davis G. |
| Houston | Carnegie Vanguard HS | 463 Barnett, Nathaniel M. |
| Houston | Carnegie Vanguard HS | 946 Cazares, Marian G. |
| Houston | Carnegie Vanguard HS | 000 Lay, Oscar L. |
| Houston | Carnegie Vanguard HS | 000 Li, Annie S. |
| Houston | Carnegie Vanguard HS | 175 Li-Kroeger, Annabelle S. |
| Houston | Carnegie Vanguard HS | 164 Madan, Tanish |
| Houston | Carnegie Vanguard HS | 160 Okolo, Joshua I. |
| Houston | Carnegie Vanguard HS | 400 Oudinot, Edouard L. |
| Houston | Carnegie Vanguard HS | 161 Palacharla, Anika S. |
| Houston | Carnegie Vanguard HS | 999 Qi, Jeffrey Z. |
| Houston | Carnegie Vanguard HS | 000 Walmer, Benjamin J. |
| Houston | Clear Lake HS | 628 Abu-Awad, Husni M. |
| Houston | Clear Lake HS | 450 Deng, Christopher M. |
| Houston | Clear Lake HS | 451 Madsen, Samantha R. |
| Houston | Clear Lake HS | 628 Morse, Amanda A. |
| Houston | Clear Lake HS | 000 Nguyen, Caroline N. |
| Houston | Clear Lake HS | 000 Valipe, Divya S. |
| Houston | Clear Lake HS | 302 Wang, Ainiu L. |
| Houston | Clear Lake HS | 950 Wang, Joy H. |
| Houston | Cypress Ridge HS | 000 Mofor, Yannick J. |
| Houston | Michael E. DeBakey HS | 628 Aro, Hanan G. |
| Houston | Michael E. DeBakey HS | 999 Liao, Xiyou |
| Houston | Michael E. DeBakey HS | 628 Mai, Alexander |
| Houston | Michael E. DeBakey HS | 164 Mittakanti, Rusheel R. |
| Houston | Michael E. DeBakey HS | 999 Ngo, Annie H. |
| Houston | Michael E. DeBakey HS | 628 Nguyen, Angela V. |
| Houston | Michael E. DeBakey HS | 450 Nguyen, Nicholas C. |
| Houston | Michael E. DeBakey HS | 629 Okpah, Promise N. |
| Houston | J. Frank Dobie HS | 171 White, Jacob M. |
| Houston | EMERY - WEINER SCHOOL | 459 Anapolsky, David A. |
| Houston | EMERY - WEINER SCHOOL | 000 De Leef, Jonathan R. |
| Houston | EMERY - WEINER SCHOOL | 740 Hampton, Nicole A. |
| Houston | Episcopal HS | 162 Gami, Ava |
| Houston | Episcopal HS | 000 Maki, Grayson |
| Houston | Episcopal HS | 500 Peeler, Carter |
| Houston | Harmony School of Advancement | 600 Valdez, Alexandra S. |
| Houston | Harmony School of Discovery | 000 Nguyen, Minh T. |
| Houston | Heights HS | 000 Bunge, Akira S. |
| Houston | Homeschool | 999 Robinson, Alexander N. |
| Houston | Homeschool | 000 Washbourne, Erick N. |
| Houston | HOUSTON CHRISTIAN HS | 000 Kuo, Daniel H. |
| Houston | HOUSTON CHRISTIAN HS | 400 Weber, Diane I. |
| Houston | Kinder HSPVA | 522 Hampton, Natalie A. |
| Houston | Kinder HSPVA | 999 Jimenez, Isabella A. |
| Houston | Kinder HSPVA | 522 Sunder, Lakshmi Y. |
| Houston | Kinder HSPVA | 000 Zhang, Melody Y. |
| Houston | Jersey Village HS | 301 Dawood, Kasim I. |
| Houston | Kinkaid | 161 Bhasin, Nikhil N. |
| Houston | Kinkaid | 461 Dsouza, Colin T. |
| Houston | Kinkaid | 602 Farahbod, Alexander W. |
| Houston | Kinkaid | 836 Fowler, Samantha |
| Houston | Kinkaid | 300 Fu, Jessica |
| Houston | Kinkaid | 000 Karmonik, Christopher K. |
| Houston | Kinkaid | 400 Lemon, Jack D. |
| Houston | Kinkaid | 000 Ma, Alice |
| Houston | Kinkaid | 000 Mathews, Anna Z. |
| Houston | Kinkaid | 455 Paddock, Harper E. |
| Houston | Kinkaid | 161 Price, Mia K. |
| Houston | Kinkaid | 160 Sewani, Soha A. |
| Houston | Kinkaid | 000 Watson, John G. |
| Houston | Kinkaid | 000 Yang, Allison M. |
| Houston | Kinkaid | 000 Zhang, Katherine L. |
| Houston | Klein Cain HS | 000 Chiu, Calvin K. |
| Houston | Klein Cain HS | 000 Wrobbel, Joshua C. |
| Houston | Lamar HS | 303 Mardanov, Nathan K. |
| Houston | Lamar HS | 000 Tran, Sean N. |
| Houston | Langham Creek HS | 000 Colby, Ryan T. |
| Houston | Langham Creek HS | 000 Kodali, Nitya |
| Houston | Langham Creek HS | 628 Rahman, Zahin |
| Houston | LUTHERAN SOUTH ACADEMY | 459 Scheer, Jonathan W. |
| Houston | MEMORIAL H. S. | 000 Chen, Daphne |
| Houston | MEMORIAL H. S. | 000 Fu, Xinyi |
| Houston | MEMORIAL H. S. | 000 Goodwin, Chase W. |
| Houston | MEMORIAL H. S. | 999 Han, Stephanie |
| Houston | MEMORIAL H. S. | 218 Hwang, Sarah Y. |
| Houston | MEMORIAL H. S. | 000 Ji, Jonathan M. |
| Houston | MEMORIAL H. S. | 000 Kim, Heesoo |
| Houston | MEMORIAL H. S. | 209 Kothari, Ayush P. |
| Houston | MEMORIAL H. S. | 833 Linscomb, Emma G. |
| Houston | MEMORIAL H. S. | 457 Madaffri, Aiden T. |
| Houston | MEMORIAL H. S. | 000 Marrs, Bradley |
| Houston | MEMORIAL H. S. | 450 Matele, Ameya |
| Houston | MEMORIAL H. S. | 000 Pearson, Camilla S. |
| Houston | MEMORIAL H. S. | 170 Scafide, John |
| Houston | MEMORIAL H. S. | 740 Shields, Alexa N. |
| Houston | MEMORIAL H. S. | 000 Son, Sarah S. |
| Houston | MEMORIAL H. S. | 000 Vajdos, Meredith M. |
| Houston | MEMORIAL H. S. | 303 Xu, Humphrey Y. |
| Houston | MEMORIAL H. S. | 000 Ye, Richard |
| Houston | MEMORIAL H. S. | 311 Yue, Joshua J. |
| Houston | MEMORIAL H. S. | 209 Zaozirny, Logan H. |
| Houston | MEMORIAL H. S. | 000 Zeng, Yundi |
| Houston | MEMORIAL H. S. | 218 Zhu, Kaitlyn |
| Houston | Michael E. DeBakey HS | 628 Aro, Hanan G. |
| Houston | Michael E. DeBakey HS | 999 Liao, Xiyou |
| Houston | Michael E. DeBakey HS | 628 Mai, Alexander |
| Houston | Michael E. DeBakey HS | 164 Mittakanti, Rusheel R. |
| Houston | Michael E. DeBakey HS | 999 Ngo, Annie H. |
| Houston | Michael E. DeBakey HS | 628 Nguyen, Angela V. |
| Houston | Michael E. DeBakey HS | 450 Nguyen, Nicholas C. |
| Houston | Michael E. DeBakey HS | 629 Okpah, Promise N. |
| Houston | Second Baptist | 000 Collins, Vance J. |
| Houston | SPRING BRANCH ACADEMIC INSTITUTE | 000 Kasyan, Katrina |
| Houston | SPRING BRANCH ACADEMIC INSTITUTE | 209 Seiler, Matthew H. |
| Houston | SPRING BRANCH ACADEMIC INSTITUTE | 501 Youngblood, William W. |
| Houston | St. Agnes Academy | 999 Bath, Blythe L. |
| Houston | St. Agnes Academy | 302 Bi, Rebecca G. |
| Houston | St. Agnes Academy | 000 Lorch, Vivian A. |
| Houston | St. Agnes Academy | 000 Maher, Lorena B. |
| Houston | St. Agnes Academy | 164 Orozco, Monica I. |
| Houston | St. Agnes Academy | 162 Parmenter, Emily |
| Houston | St. Agnes Academy | 000 Parrish, Christine K. |
| Houston | St. Agnes Academy | 742 Sheara, Sophie V. |
| Houston | St. Agnes Academy | 999 Shethia, Anika |
| Houston | St. Pius X H.S. | 000 Birkelbach, Stephanie |
| Houston | St. John's School | 843 Adkins, Alexander W. |
| Houston | St. John's School | 000 Amare, Rodrigo |
| Houston | St. John's School | 000 Bigman, Katherine A. |
| Houston | St. John's School | 000 Chapman, Katherine C. |
| Houston | St. John's School | 000 Das, Ananya |
| Houston | St. John's School | 000 Denham, Sophia E. |
| Houston | St. John's School | 450 Donnelly, George P. |
| Houston | St. John's School | 000 Doughty, Nora L. |
| Houston | St. John's School | 000 Duke, Diana M. |
| Houston | St. John's School | 843 Gidi, Isabella C. |
| Houston | St. John's School | 250 Hankamer, Caroline C. |
| Houston | St. John's School | 000 Huang, Emily A. |
| Houston | St. John's School | 160 Janssens, Natasha A. |
| Houston | St. John's School | 451 Juang, Caden T. |
| Houston | St. John's School | 999 Lee, Harris |
| Houston | St. John's School | 000 Lee, Matthew E. |
| Houston | St. John's School | 000 Li, James Z. |
| Houston | St. John's School | 741 Lin, Oliver |
| Houston | St. John's School | 907 Love, John R. |
| Houston | St. John's School | 120 Lozano, Brandon |
| Houston | St. John's School | 553 Matthews-Ederington, |
| Houston | St. John's School | 000 McGarry, John M. |
| Houston | St. John's School | 000 Moinuddeen, Adam S. |
| Houston | St. John's School | 000 Reid, Truman |
| Houston | St. John's School | 000 Romere, Lucas P. |
| Houston | St. John's School | 000 Stanietzky, Jacob A. |
| Houston | St. John's School | 000 Thekdi, Jaya M. |
| Houston | St. John's School | 832 Vlahos, Sevastianos I. |
| Houston | St. John's School | 000 Wan, Adele |
| Houston | St. John's School | 600 Wishah, Hanan H. |
| Houston | St. John's School | 000 Wood, Ryan P. |
| Houston | St. John's School | 000 Xu, Alice Y. |
| Houston | St. THOMAS EPISCOPAL SCHOOL | 000 Fenner, William C. |
| Houston | St. Thomas HS | 000 Burke, Austin T. |
| Houston | St. Thomas HS | 836 Wilson, Damian R. |
| Houston | Strake Jesuit | 000 Brodie, Jack F. |
| Houston | Strake Jesuit | 000 Cerritos, Marco A. |
| Houston | Strake Jesuit | 000 Chetty, Rushil E. |
| Houston | Strake Jesuit | 000 Citardi, Alexander J. |
| Houston | Strake Jesuit | 454 Greeley, John P. |
| Houston | Strake Jesuit | 000 Guthrie, Aidan E. |
| Houston | Strake Jesuit | 000 Jongebloed, Jake M. |
| Houston | Strake Jesuit | 000 Kollar, Jeffrey D. |
| Houston | Strake Jesuit | 000 Mitchell, Jackson P. |
| Houston | Strake Jesuit | 000 Ragazzo, Daniel R. |
| Houston | Strake Jesuit | 000 Siddiqui, Imran A. |
| Houston | Strake Jesuit | 000 Valladolid, Nicolas B. |
| Houston | Strake Jesuit | 000 Walker, James L. |
| Houston | Strake Jesuit | 000 Wiesedeppe, Albertus F. |
| Houston | Strake Jesuit | 000 Wrobel, Zachariah M. |
| Houston | Strake Jesuit | 999 Zeng, Owen Y. |
| Houston | Strake Jesuit | 000 Zhu, Harvey |
| Houston | Stratford HS | 000 Gauderman, Susanna S. |
| Houston | Stratford HS | 000 Xu, Caleb |
| Houston | SUMMER CREEK H.S. | 450 Impelman, Justin K. |
| Houston | TEXAS CONNECTIONS | 000 Saifuddin, Hamza |
| Houston | VILLAGE SCHOOL | 301 Bendapudi, Rohan |
| Houston | VILLAGE SCHOOL | 300 Lascaud, Thomas J. |
| Houston | VILLAGE SCHOOL | 000 Scholl, Max T. |
| Houston | WESTCHESTER ACADEMY OF INTERNATIONAL STUDIES | 000 Endicott, Annabel R. |
| Houston | WESTSIDE H. S. | 999 McKay, Megan G. |
| Houston | WESTSIDE H. S. | 303 Narang, Saahir |
| Humble | ATASCOCITA H. S. | 300 Hill, Emily M. |
| Humble | ATASCOCITA H. S. | 000 Morin, Richard M. |
| Katy | British International | 000 Holmes, Viola M. |
| Katy | British International | 628 Pugalenthi, Harish |
| Katy | Cinco Ranch HS | 301 Bui, Minh-Thong T. |
| Katy | Cinco Ranch HS | 740 Chester, Seaver I. |
| Katy | Cinco Ranch HS | 000 Dgama, Hayden P. |
| Katy | Cinco Ranch HS | 630 Dighe, Maitreyi |
| Katy | Cinco Ranch HS | 999 Finnegan, Maxwell A. |
| Katy | Cinco Ranch HS | 000 Gilley, Reese A. |
| Katy | Cinco Ranch HS | 455 Joshi, Arnav S. |
| Katy | Cinco Ranch HS | 457 Kapoor, Puneesh |
| Katy | Cinco Ranch HS | 311 Miller, Aiden J. |
| Katy | Cinco Ranch HS | 200 Singh, Gurpreet |
| Katy | Cinco Ranch HS | 000 Zhang, Megan G. |
| Katy | James E. Taylor HS | 160 Elsharkawy, Mariam H. |
| Katy | James E. Taylor HS | 454 Gautam, Kritika |
| Katy | James E. Taylor HS | 000 Huang, Melissa D. |
| Katy | James E. Taylor HS | 000 Lim, Minkyu |
| Katy | James E. Taylor HS | 000 Luu, Vivienne M. |
| Katy | James E. Taylor HS | 466 Wang, Egan |
| Katy | Obra D. Tompkins HS | 200 Bhat, Ahana |
| Katy | Obra D. Tompkins HS | 000 Chen, Mandy |
| Katy | Obra D. Tompkins HS | 999 Chung, Yujin |
| Katy | Obra D. Tompkins HS | 999 Jayaprakash, Kaushik |
| Katy | Obra D. Tompkins HS | 000 Jiang, Daniel J. |
| Katy | Obra D. Tompkins HS | 161 Kavuri, Navya C. |
| Katy | Obra D. Tompkins HS | 000 Li, Ella Y. |
| Katy | Obra D. Tompkins HS | 454 Manian, Aarushi S. |
| Katy | Obra D. Tompkins HS | 628 Mohammed, Adeeba |
| Katy | Obra D. Tompkins HS | 302 Patel, Ishan R. |
| Katy | Obra D. Tompkins HS | 302 Pei, Haihua |
| Katy | Obra D. Tompkins HS | 000 Perungulam, Sanjana |
| Katy | Obra D. Tompkins HS | 628 Rivera, Alejandro |
| Katy | Obra D. Tompkins HS | 628 Senthilvelan, Sanjay |
| Katy | Obra D. Tompkins HS | 200 Shi, Alex H. |
| Katy | Obra D. Tompkins HS | 773 Tiruveedhula, Abhinav S. |
| Katy | Obra D. Tompkins HS | 160 Veeramallu, Naga Sai C. |
| Katy | Obra D. Tompkins HS | 742 Wu, Haitian |
| Katy | Obra D. Tompkins HS | 303 Xu, Nicole Z. |
| Katy | Obra D. Tompkins HS | 209 Zhang, Cory X. |
| Katy | Obra D. Tompkins HS | 999 Zuo, Emma |
| Katy | Seven Lakes HS | 160 Acharya, Akanksha |
| Katy | Seven Lakes HS | 250 Angiolillo, Carlotta V. |
| Katy | Seven Lakes HS | 629 Bailey, Sophia Danielle C. |
| Katy | Seven Lakes HS | 000 Chai, Jessica L. |
| Katy | Seven Lakes HS | 000 Chen, Roger H. |
| Katy | Seven Lakes HS | 712 Cheng, Iris G. |
| Katy | Seven Lakes HS | 000 Deshmukh, Aneesh R. |
| Katy | Seven Lakes HS | 000 Gandhi, Aayushi A. |
| Katy | Seven Lakes HS | 830 Gullapalli, Sravya |
| Katy | Seven Lakes HS | 000 Indukuri, Vishnu |
| Katy | Seven Lakes HS | 162 Joseph, Akash |
| Katy | Seven Lakes HS | 000 Kheyroolla, Danyal M. |
| Katy | Seven Lakes HS | 303 Lee, Christopher D. |
| Katy | Seven Lakes HS | 303 Li, Andy |
| Katy | Seven Lakes HS | 904 Li, Bryant J. |
| Katy | Seven Lakes HS | 000 Liu, Roger |
| Katy | Seven Lakes HS | 000 Lorenz, Riley A. |
| Katy | Seven Lakes HS | 303 Massimo, Giancarlo |
| Katy | Seven Lakes HS | 000 Mehta, Jay S. |
| Katy | Seven Lakes HS | 000 Pang, Natalie Z. |
| Katy | Seven Lakes HS | 000 Park, Seongwon |
| Katy | Seven Lakes HS | 000 Qian, Matthew |
| Katy | Seven Lakes HS | 000 Quiambao, Keane A. |
| Katy | Seven Lakes HS | 455 Ramadan, Yahia O. |
| Katy | Seven Lakes HS | 000 Venkatraghavan, Adhithi |
| Katy | Seven Lakes HS | 000 Wu, Phoenix |
| Katy | Seven Lakes HS | 000 Xu, Kevin |
| Katy | Seven Lakes HS | 301 Zhao, Matthew P. |
| Katy | ST. JOHN XXIII | 455 Parmenter, Mark |
| Kingwood | Homeschool | 741 Hernandez, Ana Isabel |
| Kingwood | Kingwood HS | 600 Louie, Michael L. |
| Kingwood | Kingwood HS | 456 Rhodes, Rebecca |
| Kingwood | Kingwood HS | 559 Small, Anastasia L. |
| Kingwood | Kingwood HS | 999 Wan, Tracy |
| Kingwood | KINGWOOD PARK H. S. | 467 Wolf, Adam T. |
| Sugarland | William P. Clements HS | 454 Anand, Adhwita |
| Sugarland | William P. Clements HS | 303 Bao, Alex D. |
| Sugarland | William P. Clements HS | 773 Bawa, Arnan |
| Sugarland | William P. Clements HS | 000 Chang, Amy K. |
| Sugarland | William P. Clements HS | 311 Chang, Justin |
| Sugarland | William P. Clements HS | 000 Chittoor, Shriman |
| Sugarland | William P. Clements HS | 000 Cote, Joshua H. |
| Sugarland | William P. Clements HS | 000 Cruz, Carlos A. |
| Sugarland | William P. Clements HS | 000 Fan, Jessye J. |
| Sugarland | William P. Clements HS | 000 Fang, Yifei |
| Sugarland | William P. Clements HS | 200 Guse, Sammi N. |
| Sugarland | William P. Clements HS | 830 Hay, Stacey S. |
| Sugarland | William P. Clements HS | 870 Jain, Niyati |
| Sugarland | William P. Clements HS | 999 Khairah, Kyren S. |
| Sugarland | William P. Clements HS | 000 Kolluri, Akaash R. |
| Sugarland | William P. Clements HS | 459 Liaw, William J. |
| Sugarland | William P. Clements HS | 303 Lin, Anna Y. |
| Sugarland | William P. Clements HS | 000 Lu, Andrew C. |
| Sugarland | William P. Clements HS | 559 Palakapilly, Thomas A. |
| Sugarland | William P. Clements HS | 000 Parsan, Anisha |
| Sugarland | William P. Clements HS | 303 Rico, Diego A. |
| Sugarland | William P. Clements HS | 456 Sha, Hanyang |
| Sugarland | William P. Clements HS | 302 Sonesra, Iyan M. |
| Sugarland | William P. Clements HS | 999 Sundrani, Ziana A. |
| Sugarland | William P. Clements HS | 303 Tian, John Z. |
| Sugarland | William P. Clements HS | 454 Wang, Angela |
| Sugarland | William P. Clements HS | 000 Wang, Rich Y. |
| Sugarland | William P. Clements HS | 628 Wosenseged, Leul |
| Sugarland | William P. Clements HS | 303 Yadavalli, Kirthi Reddy |
| Sugarland | William P. Clements HS | 000 Zhang, Alex N. |
| Sugarland | William P. Clements HS | 000 Zhang, David M. |
| Sugarland | William P. Clements HS | 162 Zhang, Evan Z. |
| Sugarland | William P. Clements HS | 000 Zhong, Alice L. |
| Sugarland | William P. Clements HS | 000 Zhou, Runyan Z. |
| Sugarland | Dulles HS | 712 Agrawal, Adarsh |
| Sugarland | Dulles HS | 000 Alexander, Paula S. |
| Sugarland | Dulles HS | 000 Arulkumar, Rohan |
| Sugarland | Dulles HS | 000 Bawiskar, Anaya S. |
| Sugarland | Dulles HS | 000 Chen, Michelle R. |
| Sugarland | Dulles HS | 171 Cheng, Caitlyn A. |
| Sugarland | Dulles HS | 628 Chou, Jasmine S. |
| Sugarland | Dulles HS | 000 Chowdhury, Sahil S. |
| Sugarland | Dulles HS | 000 Das, Siddarth V. |
| Sugarland | Dulles HS | 300 Dong, Tony S. |
| Sugarland | Dulles HS | 000 Gandhi, Manav K. |
| Sugarland | Dulles HS | 000 Ganesh, Ved X. |
| Sugarland | Dulles HS | 164 Goswami, Suhani |
| Sugarland | Dulles HS | 171 Gupta, Akshay R. |
| Sugarland | Dulles HS | 619 Huo, Emily T. |
| Sugarland | Dulles HS | 000 Kalpathi, Tejas |
| Sugarland | Dulles HS | 000 Kurian, Ashley T. |
| Sugarland | Dulles HS | 160 Light, Lauren Y. |
| Sugarland | Dulles HS | 302 Lin, Justin B. |
| Sugarland | Dulles HS | 628 Mitra, Kyler S. |
| Sugarland | Dulles HS | 000 Nataraja, Vishnu |
| Sugarland | Dulles HS | 628 Nimmagadda, Neil C. |
| Sugarland | Dulles HS | 000 Patel, Raina C. |
| Sugarland | Dulles HS | 161 Phu, Sophia T. |
| Sugarland | Dulles HS | 303 Shah, Anuj J. |
| Sugarland | Dulles HS | 163 Shah, Rushil N. |
| Sugarland | Dulles HS | 161 Thomas, Adarsh S. |
| Sugarland | Dulles HS | 000 Vaidya, Bhargav N. |
| Sugarland | Dulles HS | 000 Yu, Noah E. |
| Sugarland | Dulles HS | 000 Yue, Katherine T. |
| Sugarland | Dulles HS | 000 Zhu, Michael J. |
| Sugarland | Fort Bend Christian Academy | 454 Pace, Lynley |
| Sugarland | Fort Bend Christian Academy | 712 Yang, Julia L. |
| Sugarland | Harmony School of Innovation | 459 Vu, Ethan T. |
| Sugarland | Homeschool | 906 Cey, Clare M. |
| Sugarland | I.H. Kempner H.S. | 300 Le, Kent V. |
| Sugarland | Logos Preparatory School | 943 Parry, Amanda G. |
| Sugarland | Logos Preparatory School | 722 Turner, Annabel K. |
| Sugarland | Stephen F. Austin HS | 000 Gokul, Ananya N. |
| Sugarland | Stephen F. Austin HS | 000 Qu, Jingyi |
| Sugarland | Stephen F. Austin HS | 457 Tan, Colin Y. |
| Sugarland | Stephen F. Austin HS | 000 Zhang, Luke |
| Pearland | Glenda Dawson HS | 450 Bai, Catherine |
| Pearland | Glenda Dawson HS | 162 Budimlic, Ana |
| Pearland | Glenda Dawson HS | 000 Chen, Iris A. |
| Pearland | Glenda Dawson HS | 000 Cheng, Aaron H. |
| Pearland | Glenda Dawson HS | 000 Gong, Ivy |
| Pearland | Glenda Dawson HS | 619 Haskins, Isabela K. |
| Pearland | Glenda Dawson HS | 870 Kamga, Scarlett C. |
| Pearland | Glenda Dawson HS | 720 Keaton, Lillian G. |
| Pearland | Glenda Dawson HS | 999 Li, Matthew H. |
| Pearland | Glenda Dawson HS | 456 Nguyen, Ethan N. |
| Pearland | Glenda Dawson HS | 000 Nguyen, Gracin L. |
| Pearland | Glenda Dawson HS | 000 Ni, Faith Victoria |
| Pearland | Glenda Dawson HS | 999 Qiu, Raina |
| Pearland | Glenda Dawson HS | 455 Savargaonkar, Tanmay N. |
| Pearland | Glenda Dawson HS | 960 Williams, James L. |
| Pearland | Glenda Dawson HS | 843 Yared, Noah M. |
| Pearland | Glenda Dawson HS | 999 Zhu, Harrison D. |
| Pearland | Homeschool | 450 Barkley, Katherine Ruth |
| Pearland | Pearland HS | 520 Adams, Sophie F. |
| Pearland | Pearland HS | 907 Cline, Geneva A. |
| Pearland | Shadow Creek HS | 741 Dongchau, Bao M. |
| Pearland | Shadow Creek HS | 000 Mahesh, Sandhya |
| Pearland | Shadow Creek HS | 451 Mooney, Andrew C. |
| Pearland | Shadow Creek HS | 600 Piansay, Ryan Gabriel E. |
| Pearland | Shadow Creek HS | 999 Wiltz, Ethan P. |
| League City | Clear Creek HS | 162 Funke, Madelyn K. |
| League City | Clear Creek HS | 450 Grudzinski, Nicholas A. |
| League City | Clear Creek HS | 454 Wang, Emily |
| League City | Clear Falls HS | 000 Dwyer, Spencer H. |
| League City | Clear Falls HS | 450 Meyer, Alexander K. |
| League City | Clear Falls HS | 451 Zhang, David L. |
| League City | Clear Springs HS | 467 Aziz, Mariam M. |
| League City | Clear Springs HS | 000 Jia, Parker |
| League City | Clear Springs HS | 302 Jin, Christopher J. |
| League City | Clear Springs HS | 000 Jones, Aidan R. |
| League City | Clear Springs HS | 454 Keown, Micah A. |
| League City | Clear Springs HS | 185 Thompson, Pauline |
| League City | Homeschool | 559 Peters, Faith E. |
| TAMS | Texas Academy of Math and Science | 185 Ayalavarapu, Sriram V. |
| TAMS | Texas Academy of Math and Science | 000 Bhat, Etash H. |
| TAMS | Texas Academy of Math and Science | 303 Chanana, Dhruv |
| TAMS | Texas Academy of Math and Science | 000 Chang, Daisy M. |
| TAMS | Texas Academy of Math and Science | 000 Gupta, Drishti |
| TAMS | Texas Academy of Math and Science | 000 Hansalia, Sachi J. |
| TAMS | Texas Academy of Math and Science | 000 He, Jonathan |
| TAMS | Texas Academy of Math and Science | 303 Hua, William H. |
| TAMS | Texas Academy of Math and Science | 217 Huang, Madison K. |
| TAMS | Texas Academy of Math and Science | 303 Jacob, Samuel T. |
| TAMS | Texas Academy of Math and Science | 161 Jacob, Sophia G. |
| TAMS | Texas Academy of Math and Science | 160 Jamdagneya, Paarth M. |
| TAMS | Texas Academy of Math and Science | 771 Jawahar, Harish |
| TAMS | Texas Academy of Math and Science | 600 Kabbur, Samarth P. |
| TAMS | Texas Academy of Math and Science | 628 Khong, Tracy M. |
| TAMS | Texas Academy of Math and Science | 160 Koneru, Rishi |
| TAMS | Texas Academy of Math and Science | 000 Lee, Phoebe W. |
| TAMS | Texas Academy of Math and Science | 000 Li, Jaylen |
| TAMS | Texas Academy of Math and Science | 000 Li, Zachary C. |
| TAMS | Texas Academy of Math and Science | 000 Lin, Alicia Y. |
| TAMS | Texas Academy of Math and Science | 000 Liu, Kevin B. |
| TAMS | Texas Academy of Math and Science | 000 Liu, Olivia Y. |
| TAMS | Texas Academy of Math and Science | 791 Nannapaneni, Reema |
| TAMS | Texas Academy of Math and Science | 303 Roy, Emmanuel T. |
| TAMS | Texas Academy of Math and Science | 000 Sandhu, Baani K. |
| TAMS | Texas Academy of Math and Science | 000 Singaravelan, Neha |
| TAMS | Texas Academy of Math and Science | 000 Sinha, Sneha |
| TAMS | Texas Academy of Math and Science | 000 Tang, Karol R. |
| TAMS | Texas Academy of Math and Science | 302 Tian, Caleb Y. |
| TAMS | Texas Academy of Math and Science | 999 Wang, Catherine |
| TAMS | Texas Academy of Math and Science | 628 Wang, Julia A. |
| TAMS | Texas Academy of Math and Science | 000 Wang, Lillian |
| TAMS | Texas Academy of Math and Science | 000 Wu, Emily M. |
| TAMS | Texas Academy of Math and Science | 459 Wu, Josh B. |
| TAMS | Texas Academy of Math and Science | 303 Xiao, Daniel |
| TAMS | Texas Academy of Math and Science | 000 Xiao, Nora M. |
| TAMS | Texas Academy of Math and Science | 000 Xu, Darwin W. |
| TAMS | Texas Academy of Math and Science | 000 Yang, James |
| TAMS | Texas Academy of Math and Science | 000 Zhou, Kelly S. |
| TAMS | Texas Academy of Math and Science | 000 Zhu, Tony Z. |
| Woodlands | Woodlands College Park HS | 000 Bauer, Laura A. |
| Woodlands | Woodlands College Park HS | 628 Bruno, Emmy C. |
| Woodlands | Woodlands College Park HS | 300 Chandran, Aditya |
| Woodlands | Woodlands College Park HS | 000 Fayyaz, Eman |
| Woodlands | Woodlands College Park HS | 162 Joniec, Emlyn A. |
| Woodlands | Woodlands College Park HS | 160 Jurik, Lena R. |
| Woodlands | Woodlands College Park HS | 000 Kadam, Ira N. |
| Woodlands | Woodlands College Park HS | 000 Li, Catherine |
| Woodlands | Woodlands College Park HS | 000 Liu, Faith E. |
| Woodlands | Woodlands College Park HS | 162 Manage, Sanuja D. |
| Woodlands | Woodlands College Park HS | 451 McKenna, Travis M. |
| Woodlands | Woodlands College Park HS | 907 Pachipala, Siddhanth |
| Woodlands | Woodlands College Park HS | 466 Patel, Sohi S. |
| Woodlands | Woodlands College Park HS | 303 Pittenger, Jack R. |
| Woodlands | Woodlands College Park HS | 166 Ris, Rotem |
| Woodlands | Woodlands College Park HS | 999 Schenck, Skyler R. |
| Woodlands | Woodlands College Park HS | 463 Schwartz, Andrew J. |
| Woodlands | Woodlands College Park HS | 999 Sen, Ryan |
| Woodlands | Woodlands College Park HS | 740 Shah, Diya |
| Woodlands | Woodlands College Park HS | 600 Shamsee, Daniel A. |
| Woodlands | Woodlands College Park HS | 843 Udoh, David M. |
| Woodlands | Woodlands College Park HS | 628 Valerio, Emily I. |
| Woodlands | Woodlands College Park HS | 000 Wang, Ada T. |
| Woodlands | Woodlands College Park HS | 999 Wang, Matthew H. |
| Woodlands | Woodlands College Park HS | 470 Xacur, Jorge M. |
| Woodlands | Woodlands College Park HS | 000 Yan, Katie |
| Woodlands | Woodlands College Park HS | 773 Ye, Olivia |
| Woodlands | Woodlands College Park HS | 990 Yu, Zoe |
| Woodlands | Woodlands HS | 600 Bustos, Liam J. |
| Woodlands | Woodlands HS | 907 Chu, Deborah H. |
| Woodlands | Woodlands HS | 303 Di Tirro, Nicklas J. |
| Woodlands | Woodlands HS | 950 Glaccum, Lindsay E. |
| Woodlands | Woodlands HS | 999 Goin, Andrew D. |
| Woodlands | Woodlands HS | 700 McMullan, Brooke C. |
| Woodlands | Woodlands HS | 000 Tirpak, Lily A. |
| Woodlands | Woodlands HS | 160 Wei, Amy Q. |
| Woodlands | Woodlands Christian Academy | 160 Buck, Avery |
| Woodlands | Woodlands Christian Academy | 000 Culberson, Seth A. |
| Woodlands | John Cooper School | 741 Pyle, Charlie V. |
| City | School | Student |
This article was last updated on September 16, 2022