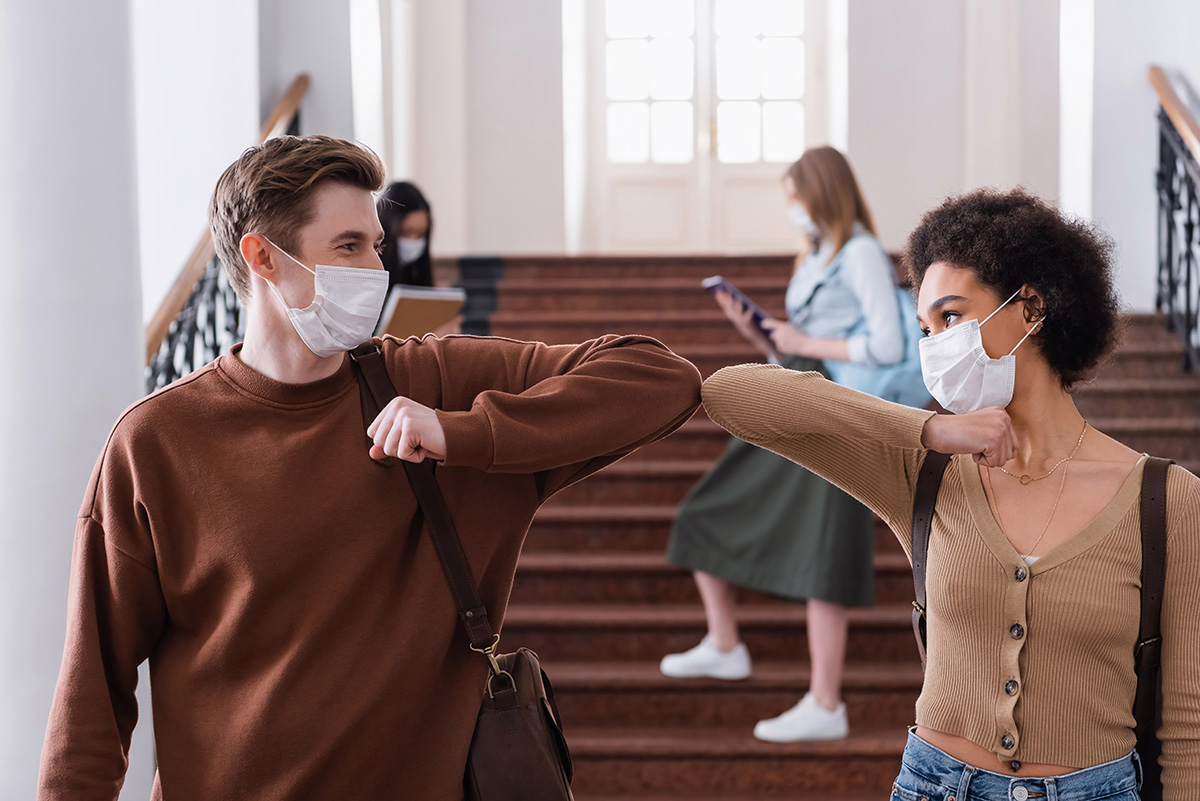 Not even a pandemic can stop these brilliant students from reaching for the stars.
The 2022 National Merit Scholarship Competition was a pandemic year for Houston-area high school seniors. There were 379 area seniors who scored in the top 1% on the PSAT to earn the celebrated "Semifinalist" designation. Versus 438 Semifinalists in the previous year, there were 13% fewer brilliant students in Houston this go around and the top 10 schools in the region were down nearly 30%.
This article was published in 2021; click here for the more recent results from 2022.
The year-long road to being named a National Merit Semifinalist typically starts in mid-October of the previous year. As such, this year's results were significantly impacted by the Covid-19 pandemic. Just 895,072 students participated in this year's competition, which represented a more than 40% drop in participation versus 2019. The big drop was caused by many schools canceling their in-class PSAT testings last fall. In spite of the cancellations, many high school students were still able to participate through "Alternate Entry," which allowed them to submit SAT scores in lieu of sitting for the PSAT.
Click here to go straight to the names of the Semifinalists!
Cutoff Scores for Texas National Merit Semifinalists and Commended Scholars 
A National Merit Semifinalist (NMSF) is a student who scored in the top 1% of high school juniors on the PSAT in their state (October of 2020 for this year's winners). The PSAT is essentially a slightly shorter version of the popular SAT college admissions test.
To win the coveted "Semifinalist" designation in Texas for the 2021-2022 competition, students must have earned a "selection index" score of 220 out of 228 (up from 219 for the previous year), which is roughly equivalent to a 1470 out of 1600 SAT composite score.
To earn the less prestigious but still admirable "Commended" designation nationwide, students must have earned a selection index score of 207 or roughly a 1380 on the SAT, which places them approximately in the top 5% of PSAT takers.
The number and percentage of awardees is one of the only statistics that is cross-comparable between private and public high schools. Since the national average is just 1%, any school that boasts more than 1% of their senior class as National Merit Semifinalists is graduating smarter students than average.
Houston's Top High Schools by National Merit Semifinalists
St. John's School in River Oaks maintained its enduring reputation as the top Houston-area school–public or private–where the smartest kids choose to go. St. John's had a relatively bad year. Only 19 seniors or 11% of its senior class qualified as Semifinalists this year versus 17% in 2020.
Despite also suffering a major decline versus 2020, Houston ISD's (HISD) Carnegie Vanguard High School managed to retain its second place spot behind St. John's and ahead of any other public school in the Houston metro area. Its 14 Semifinalists represent 6% of its class or 6x the national average and 3x that of Medical Center rival DeBakey High School.
Awty International School and Kinkaid School rounded up the top 3 Houston private schools with approximately 4% of their seniors being named Semifinalists.
The suburban high schools in Sugarland and Katy remain stalwarts in the Houston metro area. 
77 or 20% of the Houston-area total Semifinalists hailed from Katy ISD of which 26 are at Seven Lakes High School.
Similarly, 63 or 16% of top scoring seniors came from Fort Bend ISD (Sugarland), and more than half of those students came from Clements High School.
At the statewide, public boarding school Texas Academy for Math and Science (TAMS), 31 seniors were National Merit Semifinalists or nearly 20% of the class.
Key Takeaways From the 2022 Semifinalists Announcement
St. John's School proves not even a pandemic can dent its reputation as the smartest school in the city.
But HISD's Carnegie Vanguard demonstrates that families don't have to pay for private school,
And the suburban school districts in Katy and Sugarland remain fiercely competitive for talent.
Top College Majors for Smart Students
The most popular college majors of interest for Houston's brightest graduates are engineering, bioscience. However, more than 50% of students did not indicate a preference or complete the form.
(A student's intended major is designated by the three digit code in front of their name in the table below. Click here for the full description of these college majors.)
Engineering (code 45x) – 10% of Houston's Semifinalists
Bioscience (16x) – 8%
Computer Science (30x) – 8%
Health Professions (6xx) – 6%
Business Management (2xx) – 4%
Social Sciences (9xx) – 4%
National Merit Scholarships Can Mean Free College
In a typical, non-pandemic year, approximately 1.5 million students across more than 20,000 US high schools participate in the National Merit Scholarship competition beginning the fall of their junior year. Juniors compete by sitting for what is essentially an abbreviated, practice SAT (PSAT).
Semi-Finalists, the most important designation, represent the top 1% of the approximate 1.5 million test-takers. National Merit Semi-Finalists generally qualify for scholarships that can range from full tuition at certain public colleges to $5,000 and $10,000 scholarships at prestigious, private universities.
Texas colleges offering full-rides include the University of Houston, UT Arlington, UT Dallas, UT Tyler, UNT Dallas, Abilene Christian, and Lubbock Christian.
Approximately 15,000 out of 16,000 semi-finalists then go on to be designated finalists. Finalists are typically chosen in accordance with their school grades and ACT or SAT test scores. However, due to the global pandemic, ACT and SAT scores are not required for the 2021 competition.
​Lastly, a little over half of the finalists are designated "Merit-Scholarship" recipients, meaning that they get the fancy title and one-time $2,500 cash payment. Scholarship winners are selected "based on their abilities, skills, and accomplishments."
These NMSF figures are particularly attractive, versus SAT and ACT scores, because they're publicly available from the National Merit Scholarship Corporation; conversely, schools do not have to disclose the SAT and ACT scores of their students. And when private schools do disclose SAT/ACT scores, it's often presented in a way that's difficult to read and/or compare.
Names of National Merit Semifinalists
This list includes Houston, Bellaire, Humble, Katy, Kingwood, League City, Pasadena, Pearland, Sugarland, and The Woodlands.
Click here for the original press release from National Merit Scholarship Corporation, which contains the names of all winners in the state of Texas.
NMSF Students 2022
| City | School | Student |
| --- | --- | --- |
| Houston | Awty International | 000 Defossez, Maxime |
| Houston | Awty International | 000 Gao, Esther S. |
| Houston | Awty International | 999 Gomez, Gabriel A.  |
| Houston | Awty International | 459 Mekha, Matthew B. |
| Houston | Awty International | 628 Sarna, Anika |
| Houston | Awty International | 000 Smith, Connor M.  |
| Houston | Bellaire HS | 999 Ballard, James D.  |
| Houston | Bellaire HS | 628 Bartlett, Elise R.  |
| Houston | Bellaire HS | 303 Chen, Hong-En |
| Houston | Bellaire HS | 200 Chen, Katherine  |
| Houston | Bellaire HS | 904 Cricks, Scott M.  |
| Houston | Bellaire HS | 999 Crockett, Collin |
| Houston | Bellaire HS | 791 Ding, Amelia Y. |
| Houston | Bellaire HS | 999 Guttentag, Leah M.  |
| Houston | Bellaire HS | 450 Ho, Anh |
| Houston | Bellaire HS | 948 Jiang, Ava N. |
| Houston | Bellaire HS | 561 Kass, Zoe E. |
| Houston | Bellaire HS | 600 Li, Catherine H.  |
| Houston | Bellaire HS | 000 Lin, Maggie Y. |
| Houston | Bellaire HS | 161 Lin, Richard |
| Houston | Bellaire HS | 301 Liu, Eric C. |
| Houston | Bellaire HS | 883 Narayan, Milan |
| Houston | Bellaire HS | 204 Olguin, Christian E.  |
| Houston | Bellaire HS | 000 Shah, Kavi J. |
| Houston | Bellaire HS | 302 Xu, Alex L. |
| Houston | Bellaire HS | 450 Yao, Jason R. |
| Houston | Bellaire HS | 741 Zhu, Albert S.  |
| Houston | Episcopal HS | 454 Donovan, Zackary  |
| Houston | Episcopal HS | 303 Lahoti, Christopher J.  |
| Houston | Episcopal HS | 000 Moursund, William  |
| Houston | Post Oak School | 000 Quillin, Henry M.  |
| Houston | Carnegie Vanguard HS | 162 Bhattacharya, Disha |
| Houston | Carnegie Vanguard HS | 200 Calzada, Perrin |
| Houston | Carnegie Vanguard HS | 455 Dorn, Caitlin M.  |
| Houston | Carnegie Vanguard HS | 467 Draksharam, Sidharth D.  |
| Houston | Carnegie Vanguard HS | 999 Guan, David M. |
| Houston | Carnegie Vanguard HS | 000 Kadiyala, Gowtham |
| Houston | Carnegie Vanguard HS | 000 Kota, Nikitha  |
| Houston | Carnegie Vanguard HS | 000 Li, Tina |
| Houston | Carnegie Vanguard HS | 628 Lin, Jessica K.  |
| Houston | Carnegie Vanguard HS | 836 Rajagopal, Hari K.  |
| Houston | Carnegie Vanguard HS | 168 Siripuram, Srikar  |
| Houston | Carnegie Vanguard HS | 450 Thind, Tegh S.  |
| Houston | Carnegie Vanguard HS | 161 Ton, Jennifer N.  |
| Houston | Carnegie Vanguard HS | 000 Zhang, Samuel S.  |
| Houston | Clear Lake HS | 450 King, Alexander R.  |
| Houston | Clear Lake HS | 000 Lee, Alexander J.  |
| Houston | Clear Lake HS | 450 Liao, Luana |
| Houston | Clear Lake HS | 712 Luo, Mark A. |
| Houston | Clear Lake HS | 000 McBurnett, Jack |
| Houston | Clear Lake HS | 450 Reine, Etienne A.  |
| Houston | Clear Lake HS | 000 Shen, Allen Y. |
| Houston | Clear Lake HS | 467 Vassiliev, Tatiana N.  |
| Houston | Clear Lake HS | 300 Wang, Rebecca  |
| Houston | Clear Lake HS | 200 Wang, Tiana Z.  |
| Houston | Clear Lake HS | 628 Xu, Richard G.  |
| Houston | Cypress Creek HS | 303 Sohail, Yahya |
| Houston | Cypress Falls HS | 999 Lu, Jenny |
| Houston | Benjamin O. Davis HS | 000 Hoang, Renny G. |
| Houston | Michael E. DeBakey HS | 161 Chemudupaty, Pranav |
| Houston | Michael E. DeBakey HS | 628 Giang, Charlise  |
| Houston | Michael E. DeBakey HS | 454 MacLeay, Megan E.  |
| Houston | Michael E. DeBakey HS | 628 Song, Kevin  |
| Houston | EMERY - WEINER SCHOOL | 301 Zhao, Ryan |
| Houston | HEIGHTS H. S. | 000 Kerby, Roma D. |
| Houston | Homeschool | 303 Hidalgo, Carter R. |
| Houston | Homeschool | 940 Styskal, Grace M. |
| Houston | HOUSTON CHRISTIAN H. S. | 454 Chen, Jonathan D. |
| Houston | HOUSTON CHRISTIAN H. S. | 450 McCollister, John D.  |
| Houston | HOUSTON QURAN ACADEMY | 999 Fareed, Musa B. |
| Houston | INCARNATE WORD ACADEMY | 161 Cross, Nicole M. |
| Houston | INCARNATE WORD ACADEMY | 999 Quin, Emily C. |
| Houston | JERSEY VILLAGE H. S. | 451 Sal, Isaac B. |
| Houston | Kinder HSPVA | 160 Fu, Matthew |
| Houston | Kinder HSPVA | 907 Wenderfer, Ronen S. |
| Houston | Kinder HSPVA | 906 Zhang, Saranna  |
| Houston | Kinkaid | 000 Beilstein, Catherine G.  |
| Houston | Kinkaid | 000 Blake, Connor |
| Houston | Kinkaid | 870 Palavajjhala, Vedul V.  |
| Houston | Kinkaid | 000 Shaper, Kee W. |
| Houston | Kinkaid | 870 Solcher, Patrick C. |
| Houston | Kinkaid | 450 St Julian, Trace S. |
| Houston | Kinkaid | 000 Yalamanchili, Ravi  |
| Houston | Klein Cain HS | 999 Anand, Abishek |
| Houston | Klein Cain HS | 999 Vishwanath, Krithik S.  |
| Houston | Klein Cain HS | 450 Wylie, Bryson L.  |
| Houston | Lamar HS | 743 Koong, Alexander M.  |
| Houston | Lamar HS | 000 Meikleham, Craig A.  |
| Houston | Langham Creek HS | 450 Mandewalkar, Parnika  |
| Houston | Langham Creek HS | 303 Ramabadran, Ashvin  |
| Houston | LUTHERAN SOUTH ACADEMY | 999 Anderson, Luke E. |
| Houston | MAYDE CREEK H. S. | 000 Huang, Jonathan |
| Houston | MEMORIAL H. S. | 000 Czelusta, Sophie M.  |
| Houston | MEMORIAL H. S. | 999 Gong, Victoria |
| Houston | MEMORIAL H. S. | 303 Hadidi, Ahmad F. |
| Houston | MEMORIAL H. S. | 200 Kang, Stephen T. |
| Houston | MEMORIAL H. S. | 000 Matele, Avantika |
| Houston | MEMORIAL H. S. | 254 Polocheck, Delaney B.  |
| Houston | MEMORIAL H. S. | 999 Pruett, Chloe W. |
| Houston | MEMORIAL H. S. | 950 Seok, Joowon |
| Houston | MEMORIAL H. S. | 999 Sugg, Lena A. |
| Houston | MEMORIAL H. S. | 166 VanderVoort, Lane A.  |
| Houston | MEMORIAL H. S. | 185 Wall, Lauren T.  |
| Houston | MEMORIAL H. S. | 450 Xu, Daniel Y. |
| Houston | MEMORIAL H. S. | 301 Yoon, Alex S. |
| Houston | Second Baptist | 000 Kim, Grayson A. |
| Houston | Second Baptist | 000 Kim, Jeffrey J. |
| Houston | Second Baptist | 209 Konuma, Naomi |
| Houston | SPRING BRANCH ACADEMIC INSTITUTE | 204 Zhang, Alex |
| Houston | St. Agnes Academy | 000 Ahlgren, Nicole M.  |
| Houston | St. Agnes Academy | 999 Litton, Kate K. |
| Houston | St. Agnes Academy | 742 Pratt, Juliana M.  |
| Houston | St. Agnes Academy | 162 Reese, Kaeden R.  |
| Houston | St. Agnes Academy | 167 Williams, Karis R.  |
| Houston | St. John's School | 712 Ansari, Maira |
| Houston | St. John's School | 000 Chang, Megan D.  |
| Houston | St. John's School | 185 Chen, Ella X.  |
| Houston | St. John's School | 999 Cheng, Maria S. |
| Houston | St. John's School | 000 De La Cruz, Luis Gabriel J.  |
| Houston | St. John's School | 000 Devashish, Pragya |
| Houston | St. John's School | 185 Doan, Olivia Q. |
| Houston | St. John's School | 200 Donovan, Curtis J. |
| Houston | St. John's School | 000 Elliott, Alexander |
| Houston | St. John's School | 000 Greer, Michael M. |
| Houston | St. John's School | 999 Hartigan, Nyla R. |
| Houston | St. John's School | 000 Huang, Celine H. |
| Houston | St. John's School | 000 King, Natalie L. |
| Houston | St. John's School | 000 Kundagrami, Romit |
| Houston | St. John's School | 000 Li, Russell A. |
| Houston | St. John's School | 999 McCarty, Eugene G. |
| Houston | St. John's School | 000 Raizner, Brad |
| Houston | St. John's School | 000 Woodhouse, Hannah L.  |
| Houston | St. John's School | 999 Zheng, Richard Z.  |
| Houston | St. Thomas HS | 000 McColloster, Thanh-Vinh |
| Houston | St. Thomas HS | 455 Phillips, Elijah W.  |
| Houston | Strake Jesuit | 906 Abrell, Mason M. |
| Houston | Strake Jesuit | 000 Berger, Jackson A. |
| Houston | Strake Jesuit | 000 Chen, Vail A. |
| Houston | Strake Jesuit | 000 Demoor, Christopher J.  |
| Houston | Strake Jesuit | 185 Hung, Andrew W. |
| Houston | Strake Jesuit | 000 Nikulin, Grigoriy Y. |
| Houston | Strake Jesuit | 000 Stenoien, Kile R. |
| Houston | Strake Jesuit | 000 Taffet, Jonathan S. |
| Houston | Strake Jesuit | 303 Xie, Jarvis Y.  |
| Houston | Stratford HS | 450 Donley, Cameron L.  |
| Houston | Stratford HS | 999 Guy, Megan E. |
| Houston | Stratford HS | 000 Wang, Caden S.  |
| Houston | TRINITY CLASSICAL SCHOOL | 000 Weatherly, John R.  |
| Houston | TRINITY CLASSICAL SCHOOL | 000 Wagner, Helen S. |
| Houston | VILLAGE SCHOOL | 999 Bala-Mehta, Arjun  |
| Houston | VILLAGE SCHOOL | 999 Garg, Esha |
| Houston | VILLAGE SCHOOL | 950 Kumar, Nathanael S.  |
| Houston | VILLAGE SCHOOL | 999 Nguyen, Connor H.  |
| Houston | WESTCHESTER ACADEMY OF INTERNATIONAL STUDIES | 303 Alvarado, Angela M. |
| Houston | WESTSIDE H. S. | 628 Nava Maldonado, Ethan S.  |
| Houston | WESTSIDE H. S. | 999 Shih, Kelly  |
| Humble | ATASCOCITA H. S. | 628 Joy, Nicholas M. |
| Katy | British International | 000 Tioanda, Authencia |
| Katy | British International | 000 Zhangabylov, Batyr |
| Katy | Cinco Ranch HS | 000 Chen, Charles  |
| Katy | Cinco Ranch HS | 000 Chung, Sarah H.  |
| Katy | Cinco Ranch HS | 000 Guo, Brandon M.  |
| Katy | Cinco Ranch HS | 000 Jeon, Jiyeon  |
| Katy | Cinco Ranch HS | 000 Oberg, Connor  |
| Katy | Cinco Ranch HS | 000 Rong, Sharon W.  |
| Katy | Cinco Ranch HS | 302 Sagar, Aaryan  |
| Katy | Cinco Ranch HS | 904 Wang, Ethan |
| Katy | Cinco Ranch HS | 000 Wu, Christine A.  |
| Katy | Cinco Ranch HS | 450 Yoon, Daniel Y.  |
| Katy | Homeschool | 000 Lei, Leo |
| Katy | Homeschool | 303 Lu, Rosalyn R. |
| Katy | Homeschool | 000 Thompson, Abigai  |
| Katy | Katy HS | 162 Nguyen, Anh T.  |
| Katy | Katy HS | 000 Saxena, Arman J.  |
| Katy | Seven Lakes HS | 999 Buben, Varvara |
| Katy | Seven Lakes HS | 000 Chen, Yi |
| Katy | Seven Lakes HS | 000 Elanchezhian, Dinesh  |
| Katy | Seven Lakes HS | 000 Feng, April K.  |
| Katy | Seven Lakes HS | 209 Hill, Madison R.  |
| Katy | Seven Lakes HS | 467 Ho, Brian T. |
| Katy | Seven Lakes HS | 000 Hou, Cathy |
| Katy | Seven Lakes HS | 000 Huang, Crystal C.  |
| Katy | Seven Lakes HS | 000 Larsen, Noelle E.  |
| Katy | Seven Lakes HS | 000 Lee, Jack  |
| Katy | Seven Lakes HS | 000 Lim, Yu |
| Katy | Seven Lakes HS | 743 Lu, Alisa Y. |
| Katy | Seven Lakes HS | 628 Nemirajaiah, Samitha V.  |
| Katy | Seven Lakes HS | 160 Nobles, Kyle C. |
| Katy | Seven Lakes HS | 628 Pendyala, Shriya |
| Katy | Seven Lakes HS | 830 Ravva, Siddharth |
| Katy | Seven Lakes HS | 950 Rumsey, Mary N. |
| Katy | Seven Lakes HS | 185 Shanbhag, Siddharth  |
| Katy | Seven Lakes HS | 000 Swingle, Paul C. |
| Katy | Seven Lakes HS | 160 Wang, Stephanie |
| Katy | Seven Lakes HS | 000 Wu, Elizabeth |
| Katy | Seven Lakes HS | 000 Xu, Alice J. |
| Katy | Seven Lakes HS | 000 Yang, Sooyeon |
| Katy | Seven Lakes HS | 175 Zhang, Korina |
| Katy | Seven Lakes HS | 000 Zhang, Rachel K. |
| Katy | Seven Lakes HS | 175 Zhou, Joshua J.  |
| Katy | ST. JOHN XXIII | 000 Lin, Janice H. |
| Katy | ST. JOHN XXIII | 450 Podolak, Gray A. |
| Katy | ST. JOHN XXIII | 000 Speed, Mary Margaret E.  |
| Katy | James E. Taylor HS | 200 Bai, Ruixue R. |
| Katy | James E. Taylor HS | 999 Jones, Katherine A.  |
| Katy | James E. Taylor HS | 870 Lee, Jaein  |
| Katy | James E. Taylor HS | 000 Lee, Jason E.  |
| Katy | James E. Taylor HS | 629 Lee, Nayoung  |
| Katy | James E. Taylor HS | 792 Lee, Rachael  |
| Katy | James E. Taylor HS | 833 Shadden, Mitchell L.  |
| Katy | James E. Taylor HS | 160 Shim, Richard W.  |
| Katy | James E. Taylor HS | 607 Thang, Joseph J.  |
| Katy | James E. Taylor HS | 162 Wang, Karen P.  |
| Katy | Obra D. Tompkins HS | 185 Arvinth, Neha |
| Katy | Obra D. Tompkins HS | 000 Chakka, Visruth V.  |
| Katy | Obra D. Tompkins HS | 209 Cheeti, Tejas  |
| Katy | Obra D. Tompkins HS | 000 Chung, Michael S.  |
| Katy | Obra D. Tompkins HS | 000 Du, Cindy X. |
| Katy | Obra D. Tompkins HS | 201 Edwards, Emily C.  |
| Katy | Obra D. Tompkins HS | 999 Haisler, Ryan H.  |
| Katy | Obra D. Tompkins HS | 303 Kapoor, Kshitij  |
| Katy | Obra D. Tompkins HS | 450 Karthik, Rahul |
| Katy | Obra D. Tompkins HS | 160 Kaul, Amber |
| Katy | Obra D. Tompkins HS | 000 Kosanaum, Amrutha N.  |
| Katy | Obra D. Tompkins HS | 000 Liu, Max C. |
| Katy | Obra D. Tompkins HS | 999 Madana, Arjun M. |
| Katy | Obra D. Tompkins HS | 306 Odom, Robert B. |
| Katy | Obra D. Tompkins HS | 451 Prasanna, Eashaan  |
| Katy | Obra D. Tompkins HS | 456 See, Joey S. |
| Katy | Obra D. Tompkins HS | 999 Shah, Jiya U. |
| Katy | Obra D. Tompkins HS | 303 Sun, Allen I. |
| Katy | Obra D. Tompkins HS | 000 Vanderklay, David T.  |
| Katy | Obra D. Tompkins HS | 302 Venkataramanan, Luke  |
| Katy | Obra D. Tompkins HS | 000 Voma, Soumil  |
| Kingwood | Kingwood HS | 467 Alexander, Daniel S.  |
| Kingwood | Kingwood HS | 459 Patel, Sanjay G.  |
| Kingwood | KINGWOOD PARK H. S. | 000 Hebert, Evan T. |
| League City | Clear Falls HS | 000 Ferguson, Acadia L. |
| League City | Clear Springs HS | 999 Goss, Rachel M. |
| League City | Clear Springs HS | 454 Pavuluri, Sidharth K.  |
| League City | Clear Springs HS | 200 Zhou, Grace  |
| Pearland | Glenda Dawson HS | 459 Anantha, Neeraj |
| Pearland | Glenda Dawson HS | 907 Chang, Elaine L. |
| Pearland | Glenda Dawson HS | 164 Gu, Andy H.  |
| Pearland | Glenda Dawson HS | 467 Gundlach, Charles W.  |
| Pearland | Glenda Dawson HS | 160 Halder, Bidisha |
| Pearland | Glenda Dawson HS | 773 Li, Bryan Y. |
| Pearland | Glenda Dawson HS | 450 Li, Jorryn Q.  |
| Pearland | Glenda Dawson HS | 161 Ling, Edwin N. |
| Pearland | Glenda Dawson HS | 742 Mao, Stephen T. |
| Pearland | Glenda Dawson HS | 906 Muthupillai, Aruna S. |
| Pearland | Glenda Dawson HS | 000 Pasala, Michael R. |
| Pearland | Glenda Dawson HS | 836 Sanderson, Helen E. |
| Pearland | Glenda Dawson HS | 450 Soares, Isabella B. |
| Pearland | Glenda Dawson HS | 000 Tariq Rodriguez, Melissa S.  |
| Pearland | Glenda Dawson HS | 999 Wang, Enjia |
| Pearland | Glenda Dawson HS | 999 Zhang, Raina M.  |
| Pearland | Shadow Creek HS | 000 Cai, Owen |
| Pearland | Shadow Creek HS | 454 Haidar, Samah |
| Pearland | Shadow Creek HS | 454 Sassin, Garrett  |
| Pearland | Shadow Creek HS | 000 Udaygiri, Aditya  |
| Pearland | Shadow Creek HS | 000 Udaygiri, Ananya  |
| Sugarland | Stephen F. Austin HS | 000 Fu, Christopher R. |
| Sugarland | Stephen F. Austin HS | 000 Jia, Eric J. |
| Sugarland | Stephen F. Austin HS | 999 Liang, Eric T.  |
| Sugarland | Stephen F. Austin HS | 160 Pirani, Sophia A.  |
| Sugarland | Stephen F. Austin HS | 710 Shah, Nishil H.  |
| Sugarland | Stephen F. Austin HS | 999 Wang, Albert  |
| Sugarland | Stephen F. Austin HS | 000 Wat, Sandor  |
| Sugarland | Stephen F. Austin HS | 000 Wei, Tracy Y.  |
| Sugarland | William P. Clements HS | 000 Bhatnagar, Ashmit |
| Sugarland | William P. Clements HS | 166 Borle, Kabir |
| Sugarland | William P. Clements HS | 000 Chandran, Neha R. |
| Sugarland | William P. Clements HS | 303 Chitta, Karthik S.  |
| Sugarland | William P. Clements HS | 000 Ganguly, Lina |
| Sugarland | William P. Clements HS | 302 Guse, Caleb N. |
| Sugarland | William P. Clements HS | 999 Huang, Christine S.  |
| Sugarland | William P. Clements HS | 999 Khan, Danish A.  |
| Sugarland | William P. Clements HS | 303 Li, David |
| Sugarland | William P. Clements HS | 843 Liu, Jingchun M. |
| Sugarland | William P. Clements HS | 000 Mitchell, Nicholas A.  |
| Sugarland | William P. Clements HS | 000 Mitra, Lilia R. |
| Sugarland | William P. Clements HS | 000 Morgan, Chloe L. |
| Sugarland | William P. Clements HS | 161 Nguyen, Crystal T. |
| Sugarland | William P. Clements HS | 162 Nguyen, Evelyn T. |
| Sugarland | William P. Clements HS | 628 Nguyen, Hannah T.  |
| Sugarland | William P. Clements HS | 600 Nguyen, Tran V.  |
| Sugarland | William P. Clements HS | 950 Palmer, Andrew D.  |
| Sugarland | William P. Clements HS | 000 Pan, Evan |
| Sugarland | William P. Clements HS | 455 Pulmano, Aidan O.  |
| Sugarland | William P. Clements HS | 900 Rami, Norah |
| Sugarland | William P. Clements HS | 204 Ratnani, Tanya |
| Sugarland | William P. Clements HS | 000 Rosario, Ryan M.  |
| Sugarland | William P. Clements HS | 303 Roy, Shrey C. |
| Sugarland | William P. Clements HS | 628 Shi, Amaris |
| Sugarland | William P. Clements HS | 999 Tallavajhula, Vivek  |
| Sugarland | William P. Clements HS | 161 Thupili, Akshata P.  |
| Sugarland | William P. Clements HS | 000 Wang, Audrey |
| Sugarland | William P. Clements HS | 999 Wu, Albon Y. |
| Sugarland | William P. Clements HS | 000 Xu, Christina T. |
| Sugarland | William P. Clements HS | 999 Yao, Melissa M.  |
| Sugarland | William P. Clements HS | 000 Yu, Joshua |
| Sugarland | William P. Clements HS | 000 Yuan, Christine C.  |
| Sugarland | William P. Clements HS | 000 Zhang, Richard R. |
| Sugarland | Dulles HS | 710 Aziz, Sofia F. |
| Sugarland | Dulles HS | 303 Feng, Timothy |
| Sugarland | Dulles HS | 000 Huang, Kelly |
| Sugarland | Dulles HS | 000 Iyer, Abhay |
| Sugarland | Dulles HS | 773 Kanwar, Hemant |
| Sugarland | Dulles HS | 161 Li, Jeffery |
| Sugarland | Dulles HS | 000 Lin, Phoebe |
| Sugarland | Dulles HS | 300 Michlin, Elliot M. |
| Sugarland | Dulles HS | 000 Phung, Kelvin K. |
| Sugarland | Dulles HS | 000 Saxena, Akul |
| Sugarland | Dulles HS | 000 Seenivasan, Sujitha  |
| Sugarland | Dulles HS | 000 Sheikh, Aleezay A.  |
| Sugarland | Dulles HS | 000 Teo, Yi Sheng Adam  |
| Sugarland | Dulles HS | 301 Thoutam, Vikas |
| Sugarland | Dulles HS | 628 Viruthagiri, Akshara  |
| Sugarland | Dulles HS | 000 Wang, Claire |
| Sugarland | Dulles HS | 000 Yan, Austin K. |
| Sugarland | Dulles HS | 303 Yu, Joshua T.  |
| Sugarland | Harmony School of Innovation | 999 Agrawal, Anjali |
| Sugarland | Harmony School of Innovation | 303 Bachu, Graciela A.  |
| Sugarland | Harmony School of Innovation | 000 Kalanee, Isha  |
| TAMS | Texas Academy of Math and Science | 000 Achukola, Abhijay |
| TAMS | Texas Academy of Math and Science | 999 Beard, Andrew P. |
| TAMS | Texas Academy of Math and Science | 000 Chalasani, Satwik V. |
| TAMS | Texas Academy of Math and Science | 000 Chau, Allen K. |
| TAMS | Texas Academy of Math and Science | 000 Guo, Yifan |
| TAMS | Texas Academy of Math and Science | 000 Jiang, Brian |
| TAMS | Texas Academy of Math and Science | 303 Kadiresan, Adheesh |
| TAMS | Texas Academy of Math and Science | 000 Kandarpa, Aditya |
| TAMS | Texas Academy of Math and Science | 605 Kim, Ajeong |
| TAMS | Texas Academy of Math and Science | 907 Kwee-Bintoro, Michael A.  |
| TAMS | Texas Academy of Math and Science | 000 Li, Dylan |
| TAMS | Texas Academy of Math and Science | 303 Li, Lisa R. |
| TAMS | Texas Academy of Math and Science | 000 Liang, Cindy |
| TAMS | Texas Academy of Math and Science | 628 Liu, Joyce C. |
| TAMS | Texas Academy of Math and Science | 000 Lu, Leo H. |
| TAMS | Texas Academy of Math and Science | 999 Malden, Gavin J. |
| TAMS | Texas Academy of Math and Science | 161 Moon, Alan J. |
| TAMS | Texas Academy of Math and Science | 000 Shanmugam, Neel |
| TAMS | Texas Academy of Math and Science | 160 Shridharan, Shreyas K. |
| TAMS | Texas Academy of Math and Science | 947 Teaw, Sarah Ann L. |
| TAMS | Texas Academy of Math and Science | 628 Vumma, Lavanya |
| TAMS | Texas Academy of Math and Science | 000 Yang, Carly Y. |
| TAMS | Texas Academy of Math and Science | 628 Yang, Rachel Y. |
| TAMS | Texas Academy of Math and Science | 000 Yao, Clara S. |
| TAMS | Texas Academy of Math and Science | 000 Yu, Kaylee Z. |
| TAMS | Texas Academy of Math and Science | 000 Yu, Xiujian |
| TAMS | Texas Academy of Math and Science | 742 Yuan, Angela |
| TAMS | Texas Academy of Math and Science | 999 Zeng, Claire |
| TAMS | Texas Academy of Math and Science | 628 Zeng, Michelle |
| TAMS | Texas Academy of Math and Science | 999 Zhang, Jocelyn |
| TAMS | Texas Academy of Math and Science | 999 Zhao, William M.  |
| Woodlands | Woodlands College Park HS | 000 Allen, Abram J. |
| Woodlands | Woodlands College Park HS | 000 Chakraborti, Jay  |
| Woodlands | Woodlands College Park HS | 000 Hu, Ezra J. |
| Woodlands | Woodlands College Park HS | 000 Kaiser, William D. |
| Woodlands | Woodlands College Park HS | 000 Liotta, Christopher S. |
| Woodlands | Woodlands College Park HS | 000 Maddipatla, Pranavi S.  |
| Woodlands | Woodlands College Park HS | 000 Patel, Mahi S. |
| Woodlands | Woodlands College Park HS | 166 Reddy, Koushal |
| Woodlands | Woodlands College Park HS | 000 Sharer, Jason C. |
| Woodlands | Woodlands College Park HS | 000 Thayyil Thomas, Mijo |
| Woodlands | Woodlands College Park HS | 000 VanBenthuysen, Jacob D.  |
| Woodlands | Woodlands College Park HS | 470 Walker, Elliott J. |
| Woodlands | Woodlands College Park HS | 470 Wszolek, Roger W. |
| Woodlands | Woodlands College Park HS | 740 You, Sandra J. |
| Woodlands | Woodlands College Park HS | 204 Zhang, Emily C.  |
| Woodlands | Woodlands HS | 000 Han, Barnett S. |
| Woodlands | Woodlands HS | 000 Holleman, Anna C.  |
| Woodlands | Woodlands HS | 000 Holloway, Leonardo L.  |
| Woodlands | Woodlands HS | 000 Huff, Jack H.  |
| Woodlands | Woodlands HS | 000 Iyer, Rajiv |
| Woodlands | Woodlands HS | 000 Larracilla Onofre, Carolina E.  |
| Woodlands | Woodlands HS | 000 Radhakrishnan, Arjun |
| Woodlands | Woodlands HS | 000 Vasquez, Alexander M.  |
| City | School | Student |
This article was last updated on September 20, 2021