National Merit Scholarship Corporation (NMSC) has announced the Semifinalists in their 64th National Merit Scholarship Program. Semifinalists are current high school seniors who took the PSAT in October of 2017 and scored among the top 1% in their respective states.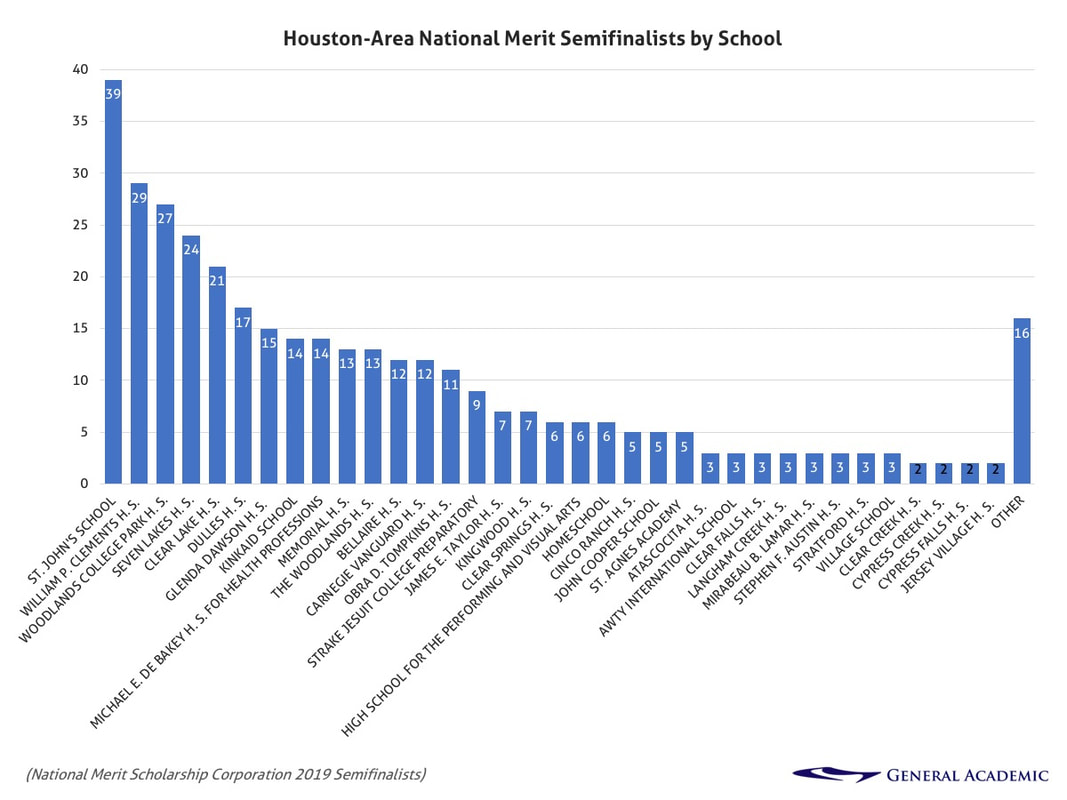 St. John's School maintained its perennial lead with 39 Semifinalists or approximately 30%* of the class; to put that another way, 30% of current seniors at St. John's are in the top 1% of SAT scorers or thirty times (30x) the national average.
Kinkaid School saw a 56% jump from 9 to 14 this year, meaning that approximately 10% of its senior class scored in the top 1%.
In constrast to the stability at St. John's, Houston ISD's (HISD) Bellaire High School suffered a huge 67% decline, going from 36 Semifinalists last year to just 12 this year or about 1.5% of its class, which is still 50% more than the national average. Carnegie Vanguard was also down 5 designees, but DeBakey was up 3; the percentage of the class at both top tier HISD schools scoring in the top 1% was about 8% or 8x the national average and only behind St. John's and Kinkaid percentage-wise.
The Houston suburbs are hot beds for smart kids, with Clements (5% of the class) and Dulles (3%) in Sugarland , Glenda Dawson (3%) in Pearland, College Park (4%) in the Woodlands, Seven Lakes (3%) in Katy, and Clear Lake High School (4%) all showing consistently strong results. The performance of these suburban high schools is particularly good considering that anyone living in their neighborhood zone can attend; there is no application preventing lesser gifted students from enrolling like at HISD's Carnegie, Debakey, and HSPVA.
To win the coveted "Semifinalist" designation in Texas, students must have earned a "selection index" score of 221 out of 228 (unchanged versus last year), which is equivalent to a 1480 out of 1600 SAT composite score. To put this rare achievement into perspective, Texas juniors could have missed no more than 3 out of 47 questions in Reading, 2 out of 44 questions in Writing and Language, and 4 out of 48 questions across both Math sections.
Semifinalists are eligible for more than 1,000 corporate-sponsored scholarships and 4,000 college-sponsored scholarships and can even get full rides to some Texas schools like University of Houston, Baylor, UT Arlington, UT Dallas, UT Tyler, UNT Dallas, Abilene Christian, and Lubbock Christian.
Out of 1.6 million juniors entering the competition by taking the PSAT, approximately 16,000 students score in the top 1% to earn the designation "Semifinalist," and about 90% of these will go on to become "National Merit Finalists." Only 2500 students will earn a $2,500 scholarship and the title National Merit Scholar.
The number of Semifinalists at a school does not necessarily correlate to the quality of that institution's education. Arguably, many of these brilliant students could have scored very well on the SAT at whatever school they did or did not attend; note that there were six homeschool students who aced the test too.
However, the numbers do provide some light on where parents of talented kids like to send their children.
Names of Semifinalists Designees
This list includes Houston, Clear Lake, Humble, Katy, Kingwood, League City, Pearland, Sugarland, and The Woodlands. The list is first by city, then school, then student. If you're looking for a particular student, try using your browser's "find" tool like ctrl+f or apple+f. If you still can't find your student, try looking on the official press release.
The three digit number before a student's name is their self-selected "College Major Career Code." 999 means undecided; click here to download the explanation to all codes.
AWTY INTERNATIONAL SCHOOL
000 Diab, Nabeel
000 Thomas, Benjamin W.
000 Wolff, Alexandra N.
​Bellaire H.S.
457 Joo, Sehun
710 Kincaid, Leah A.
160 Lu, Annie J.
628 Miao, Michelle J.
161 Qiu, Alice Y.
000 Rees, Gavin M.
209 Stefan, Tessora E.
200 Wang, Allen
160 Wang, Annabelle T.
904 Wei, James Z.
204 Zhan, Dorothy T.
522 Zhang, Patrick
CARNEGIE VANGUARD H. S.
742 Alexander, Andrew C.
467 Cheek, David H.
454 Huang, Charlene T.
740 Lawter, Jack W.
160 Lin, Richard A.
450 Luthria, Manith N.
999 Mitra-Behura, Shilpita
254 Nanson, Zoe E.
454 Niaz, Zainab N.
742 Spiller, Meredith G.
999 Wang, Christina Y.
000 Yen, Matthew W.
CLEAR LAKE H. S.
950 Bernay, Clare J.
904 Dong, Alina S.
999 Fruitwala, Shriya A.
455 Li, Edward
999 Liang, Alex L.
455 Lu, Evan C.
000 Parthasarathy, Vaidya
450 Pauly, Jason R.
160 Sang, Julie
303 Schoenberg, Adam J.
455 Song, Grace Y.
302 Thiviyanathan, Arunan K.
161 Tripathy, Krisha
999 Villar, Camille F.
450 Wu, Steven
700 Xing, Teresa
209 Yang, Anqi
790 Yoon, Esther L.
600 Zhang, Richard H.
160 Zhang, William
300 Zhou, Dean
CYPRESS CREEK H. S.
303 Leon, Trevor D.
303 Paugh, Ethan M.
CYPRESS FALLS H. S.
907 Baba, Chloe N.
454 Ganti, Anish S.
MICHAEL E. DE BAKEY H. S. FOR HEALTH PROFESSIONS
185 Borthakur, Sugat
400 Chan, Angeleana S.
600 Do, Emily Y.
000 Ivaturi, Sindhuri
467 Konvicka, Anna M.
628 Lin, Jennifer S.
999 Lin, Lisa H.
628 Madabushi, Anuraag R.
204 Pathak, Vishreshta B.
160 Pham, Kala T.
200 Sheikh, Daanish S.
999 Van, Tai W.
303 Veeramachaneni, Pranooha
999 Zhang, Lucy Y.
HARMONY SCHOOL OF ADVANCEMENT
171 Bowman, Richard
HIGH SCHOOL FOR THE PERFORMING AND VISUAL ARTS
455 Curtis, Ewan J.
947 Fahed, Deena
451 Fair, Margaret E.
628 Nguyen, Vi T.
941 Pillsbury, Eliza C.
950 Puccio, Sofia
HOMESCHOOL
999 Barnett, Caroline G.
185 McKenna, Tatum R.
836 Styskal, Nathaniel J.
303 Washbourne, Robert A.
HOUSTON ACADEMY FOR INTERNATIONAL STUDIES
453 Mercado, Mariana G.
I SCHOOL HIGH AT UNIVERSITY PARK
467 Pulliam, Drew T.
INCARNATE WORD ACADEMY
550 Ferrel, Norma G.
JERSEY VILLAGE H. S.
833 Goehring, Samuel D.
450 Xia, Victor M.
Greater Houston
​KINKAID SCHOOL
628 Baldridge, Tyler E.
999 Brown, Patrick B.
907 Cameron, Reeves D.
450 Fowler, Annaliese C.
600 Frumovitz, Alexander S.
628 Ho, Amy L.
450 Kalai, Remy A.
185 Moorefield, May N.
628 Moseley, Caroline
450 Nockolds, William
467 Ramos, Diego S.
200 Scofield, John B.
162 Seager, Sebastian J.
833 Shaper, Riley J.
MIRABEAU B. LAMAR H. S.
628 Chahal, Rohini K.
628 Ivan, Alexia D.
999 Zivley, Rebecca M.
LANGHAM CREEK H. S.
467 Kommalapati, Rishi T.
302 Nguyen, Dylan
302 Tran, An N.
MEMORIAL H. S.
303 Berney, Liam R.
164 Bhakta, Aneesa Z.
999 Huang, Merrick Z.
160 Ju, Hyungyu
999 Kim, Jun S.
200 King, Sarah K.
200 Ma, Tianrun
999 Park, Minwoo
303 Shine, Aidan T.
200 Soh, Susan J.
628 Thapar, Isha K.
200 Wang, Crystal Q.
904 Wilhelm, Frederick D.
NEW HEIGHTS CHRISTIAN ACADEMY
455 Nussberger, Kaitlyn A.
SECOND BAPTIST SCHOOL
160 Kim, Payton F.
SHARPSTOWN INTERNATIONAL SCHOOL
772 Betzer, Claire E.
ST. AGNES ACADEMY
628 Conde, Anabelle M.
627 Ho, Allison
791 Kenner, Rachel P.
906 Mulry, Grace M.
602 Murphy, Phoebe R.
ST. JOHN'S SCHOOL
999 Bhosale, Hrishabh R.
700 Caldwell, Sophie E.
000 Chambers, Isabel N.
999 Chang, Ryan
455 Chen, Iris
712 Draper, Juliette
900 Edwards, Jackson B.
467 Ellison, Emily M.
628 Feldman, Rachel K.
628 Feng, Emily
906 Fernelius, Harrison G.
160 Fullen, Collin E.
999 Gaber, Lilah
770 Ghose, Shomik
000 Giordano, Matthew R.
556 Gorman, Margaret M.
904 Gow, Daniel W.
628 Hu, Sabrina
160 Israel, Shani
450 Kamat, Ishan A.
999 Kao, Sara M.
710 Kapiloff, Andie H.
628 Koh, Sara S.
162 Kontos, Sophia E.
999 Krishnarao, Prithvi P.
999 Kundagrami, Raunak
742 Lahoti, Dhilan K.
254 Maierson, Eli C.
185 Patel, Vijay K.
999 Pesikoff, Ethan M.
303 Poag, James D.
743 Robins, Rhett
185 Samson-Williams, Tara E.
162 Seo, David
450 Sturgis, Malcolm M.
303 Tockman, Andrew L.
168 Trent, James P.
000 Tsai, Joshua T.
303 Varma, Sebastian A.
STRAKE JESUIT COLLEGE PREPARATORY
454 Allen, Nathaniel R.
999 Checchia, Andrew M.
907 Donowho, Joseph
999 Dowdall, Joseph H.
451 Dzierzanowski, Christopher R.
500 Herrera, Joshua
999 Hew, Joshua T.
501 Liu, Vincent Y.
455 Nguyen, Van-Khoa M.
STRATFORD H. S.
450 Hannigan, William C.
430 Walker, Andrew M.
450 Yun, Carissa G.
VILLAGE SCHOOL
209 Han, Jerry
950 Perez Ouhirra, Gabriel W.
450 Tang, Michael J.
WESTCHESTER ACADEMY OF INTERNATIONAL STUDIES
000 Rosca-Halmagean, Matthew
WESTSIDE H. S.
467 Shih, Justin ​
HUMBLE
ATASCOCITA H. S.
628 Danka, Asad I.
894 Peters, Erin E.
454 Wells, Jordan T.
KATY
BRITISH INTERNATIONAL SCHOOL
455 Grant, Thomas
CINCO RANCH H. S.
741 George, Nevin
461 Guo, Brian
454 Hassun, Andres D.
185 Mansingka, Nandika
450 Wan, Brian T.
CYPRESS LAKES H. S.
302 Le, Matthew
KATY H. S.
303 Martinez, Jon C.
SEVEN LAKES H. S.
300 Chen, Emily W.
160 Clister, Richard S.
454 Dean, Christopher D.
999 Gaskamp, Austin K.
185 Gonzalez, Nicholas O.
160 Guan, Xin
450 Heffernan, Sean
161 Indukuri, Surya
600 Kalisek, Kayla D.
520 Kim, Rachel
892 Jiang, Justin S.
906 Mantilla, Alejandro E.
455 Moore, Cole T.
628 Rege, Riddhi
999 Samarth, Gargi A.
628 Shen, Kevin Z.
200 Sun, Shannon Y.
450 Vejendla, Alekya
303 Venkat, Naveen K.
303 Wang, Alice Q.
164 Wang, David H.
454 Wang, Rachel A.
209 Wang, Sharon R.
162 Yeum, Thomas Y.
ST. JOHN XXIII COLLEGE PREPARATORY
000 Hollmann, Abigail F.
JAMES E. TAYLOR H. S.
999 Fan, Angela L.
450 Gupta, Trisha
999 Kang, Dale M.
160 Tang, Sunny A.
160 Wigger, Lena M.
450 Wu, Evelyn
451 Xu, Cliff
OBRA D. TOMPKINS H. S.
209 Cremins, Aidan M.
160 Gudala, Sree S.
161 Gujja, Sathvik R.
520 Han, Michael C.
301 Kjar, Jackson K.
907 Puranik, Siddhant S.
204 Razinobakht, Puria
302 Wang, Jianuo
743 Weil, Colin D.
999 Wu, Elysia J.
450 Zhang, Yunfan R.
KINGWOOD
KINGWOOD H. S.
451 Bass, Jacob C.
201 Doan, Serena M.
742 Graham, Grayson M.
455 Hormann, Robin
628 Lee, Jamie N.
467 Padhye, Ian N.
501 Tian, Lilly
LEAGUE CITY
CLEAR CREEK H. S.
160 Muthukumar, Chandini
466 Noorbakhsh, Cameron
CLEAR FALLS H. S.
303 Hallam, Samantha B.
900 Neighbors, Hannah C.
843 Vargas-Calderon, Brayden M.
CLEAR SPRINGS H. S.
600 Ahmed, Amr A.
870 Ali, Eshal A.
451 Barcio, Anthony J.
162 Crawford, Nadia E.
999 Nguyen, Emily M.
772 Nguyen, Faith C.
GLENDA DAWSON H. S.
843 Albert, Alexander M.
204 Cai, Yupu
451 Dave, Aayush S.
907 Jiang, Theodore
628 Kaushik, Nethra N.
999 Li, Eric H.
200 Li, Frank W.
454 McNichols, Roger J.
303 Nair, Siddharth A.
456 Spradlin, Morgan E.
200 Tao, Willa
710 Walia, Divjot S.
450 Wang, Hans R.
628 Wang, Helen H.
200 Xie, Katherine C.
PEARLAND H. S.
628 Tran, Angela V.
SHADOW CREEK H. S.
907 Doe, Kelvin K.
SUGAR LAND
STEPHEN F. AUSTIN H. S.
467 Mehta, Akash
160 Momin, Insha
185 Ren, Cassie
WILLIAM P. CLEMENTS H. S.
166 Arya, Sruja
742 Ashary, Rafay
906 Dae, Jessica
455 Dargan, Parth
303 Diao, Cameron W.
160 Gaddam, Sriman
450 He, Christopher
455 Ibrahim, Bassel
303 Jin, Kevin
999 Karanam, Akash
999 Kiang, Emily
300 Li, Eric
161 Lin, John
166 Malveaux, Alexis
628 Mehta, Avirut
185 Mitra, Milan
303 Nagaraj, Divya
303 Nguyen, Coby
160 Rajesh, Sameer
451 Ralph, Thomas
161 Ram, Janya
300 Ratnani, Ammar
999 Sharma, Nikita
160 Su, Yi-Le
457 Viet, Derek
168 Wei, Patrick
457 Yang, Elvin
904 Zhou, Claire
209 Zuo, Miriam
DULLES H. S.
454 Bhavaraju, Ravali
999 Chu, Ryan
161 Fu, Jonathan
999 Huang, Allen
999 Huang, Brian
162 Kalva, Prathik
999 Li, Hanzheng
999 Lin, Emily
162 Luu, Alan
303 Mohan, Shree
185 Pokkulandra, Adarsha
999 Sun, Lisong
559 Tao, Katherine
303 Wei, Ruocheng
300 Wu, Annie
712 Yang, Lauren
454 Yangyi, Yufei
HARMONY SCHOOL OF INNOVATION
628 Tran, Olivia U.
HOMESCHOOL
821 Blockhus, Colleen H.
450 Jarecki, Madeleine G.
WOODLANDS
JOHN COOPER SCHOOL
740 Frankland, Erin D.
200 Hari, Samyuktha
467 Pradeepkumar, Vidyal N.
999 Ross, Brian D.
175 Smith, Madeleine G.
THE WOODLANDS COLLEGE PARK H. S.
796 Bealer, Nicole P.
455 Bohnet, Jill E.
455 Bolinder, Lucas N.
628 Burr, Catherine A.
455 Calizzi, Christopher S.
999 Cao, Michael W.
559 Childers, Genevieve M.
455 Chowdhury, Ankit R.
454 Dasari, Shobha
000 Hart, Nikki J.
000 He, Zhi Mei S.
000 Ho, Khoa A.
999 Jin, Alison Q.
999 Jin, Harrison Q.
302 Joshi, Praneel
160 Kong, Sarah J.
303 Kounthapanya, Connor L.
843 Letai, Jonathan T.
743 Manage, Sithija S.
907 Myers, Jessica L.
254 Oleksy, Alexander S.
457 Salankimatt, Yashas
999 Shen, Kelly D.
999 Verzwyvelt, Abby E.
301 Winningham, Matthew C.
300 Yu, Andrew D.
303 Zou, Daniel
THE WOODLANDS H. S.
455 Deshmukh, Neha U.
250 Dubois, Jackson R.
830 Herdejurgen, Rose A.
907 Hushka, Michael H.
600 Kartala, Rushil
999 Kauppinen, Cole A.
000 Krynicki, Holly R.
870 Lange, Michelle E.
303 Mashruf, Ahsan
185 Oancea, Paul
743 O'Neill, Dominique D.
450 Roy Chowdhury, Aniket
450 Vazquez, Sebastian