Upper Level ISEE Prep Guide with 6-Full-Length Practice Tests, 3rd Edition
The Upper Level Independent School Entrance Exam® (ISEE) is often required for admission to American private high schools.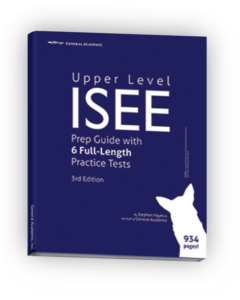 This 934-page, 3rd edition book is one of the only offerings of its kind that focuses solely on the ISEE and specifically the test for students applying to grades 9 through 12.
Covering only the Upper Level ISEE allows us to offer an extraordinarily comprehensive guide: 6 full-length practice tests with answer explanations, extensive concept review, 2000+ practice problems, 1200 vocabulary words, proven strategies, study plans, and even admissions advice.
​New for this third edition are more than 200 pages of answer explanations for all of the questions in the six practice tests in addition to various corrections and updates.
General Academic is a Houston-based academic consulting firm. We initially created this text for our local clients; however, we now hope that you too will benefit from our research and experience even if you cannot make it into our office.
934-Pages of Review and Practice + 6 Full-Length Practice ISEE Upper Level Exams
Topics Covered
Practice and Review Material

How to Use This Book – Study Plans
Introduction to the ISEE
Student's Role in the Admissions Process
ISEE Test Taking Strategies
The Essay
Verbal Reasoning
Reading Comprehension
Quantitative Reasoning
Mathematics Achievement

14 Essay Brainstorming Worksheets
1200 Vocabulary Words and Definitions
900 Synonym Questions
200 Sentence Completions
24 Reading Comprehension Paragraphs
15 Full-Length Reading Passages
500 Math Problems
10 Quantitative Comparison Worksheets
With more than 2500 questions in this edition, unfortunately errors and/or typos happened. When identified, we call them out here.
Page 140 #11 – Answer Choice "B" should read "acumen — translate." Replace "transpose" with "translate." While "transpose" can be used in lieu of "translate," it's not at all common in the vernacular.
Page 142 #5 – Answer Choice "D" is misspelled. It should be spelled "Wavered" without the "i."
Page 367 #6 – The correct answer is "A, the quantity in Column A is greater."
Page 370 #1 – The correct answer should be "C," the quantities are equal.
Page 471 #32 – The correct answer is "D" "personify.
Page 687 #10 – The correct answer is "A – fever."
Page 705 #25 – The correct answer is "B. 10 ounces." The answer explanation solves the question correctly but lists the incorrect answer as well.
Page 708 #36 – The correct answer is "D. 2/m." The answer explanation solves the question correctly but lists the incorrect answer as well.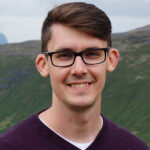 Stephen Hayes is the ISEE book's lead author and General Academic's Vice President.
Please note that ISEE® is a registered trademark of the Educational Records Bureau, which does not endorse this product.
Our Latest News and Analysis