ISEE Middle Level Practice Tests
General Academic publishes 7 full-length practice tests for the ISEE Middle Level (applying to grades 7 and 8). These practice tests are available online as self-scoring and analyzing practice at Piqosity.com.
White labeling options and group license discounts for tutoring companies and schools are available exclusively at Piqosity.com.
​General Academic tutoring clients in Houston receive these tests and our other prep materials at no additional charge.
We also offer
Piqosity.com Online Practice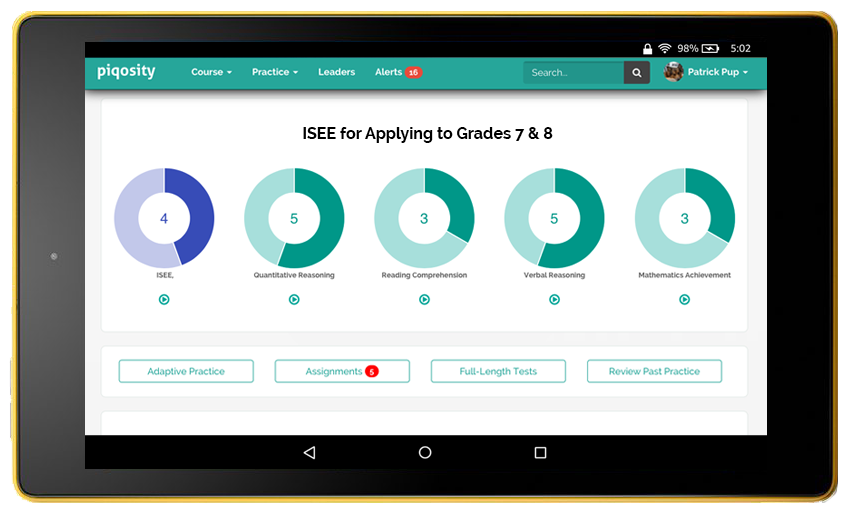 With a Piqosity subscription, students will gain immediate access to General Academic's 7 full-length practice tests plus adaptive practice problems. Piqosity automatically scores and analyzes practice sets and predicts a test-day score.
Piqosity subscribers will receive access to new material as it's available.
Learn more at Piqosity.com/isee-middle-level
7 Full-Length Practice ISEE Middle Level Exams
​Topics Covered
Verbal Reasoning
Quantitative Reasoning
Reading Comprehension
Mathematics Achievement
Personal Essay
Practice and Review Material
7 Full-Length Practice Tests
140 Synonym Questions
140 Sentence Completions
42 Full-Length Reading Passages
329 Mathematics Achievement Problems
​259 Quantitative Reasoning Problems​
Click here for the only official practice test released by ERB (not full-length but time is decreased accordingly).
ISEE® is a registered trademark of the Educational Records Bureau, which does not endorse these products.